IMPORTANT MEETING NEWS
To ANTUNS
Any of the parkways to the Cross Island Parkway to the Jamaica Ave. WEST exit. Take Jamaica Ave. to Springfield Blvd and make a left. Antun's is located just past the railroad overpass. An alternate route is to take the Belt Parkway to Springfield Blvd North exit. Be advised that this route has more traffic lights to contend with.
---
To the NYS FOP HQ
New York State Fraternal Order Of Police
Empire State Lodge
911 Police Plaza
Hicksville NY 11801
Southern State East or West to Wantagh Pkwy North to Old Country Rd EAST. Take this to Newbridge Rd (Rt 106) North to West John St. just past the RR overpass. Make a right to FOP on right.
From LIE to exit 41 South (N. Broadway) to Rt. 106 South to W. John St. Left to FOP on right.
From Northern State to exit 35 (N. Broadway South) to Rt. 106 South to W.John St. Make left to FOP on right
By LIRR: Get off at the Hicksville station and walk 2 blocks north to W. John Street and turn right to the FOP building.
---
To VERDI'S CATERERS
680 Old Country Rd, Westbury, NY 11590
Phone
: (516) 334-4552
From Queens: Northern State Pkwy EAST to Meadowbrook Pkwy SOUTH to Old Country Road EAST. Continue on Old Country Rd to Verdi's on your right.
From Brooklyn: Southern State Pkwy EAST to Meadowbrook Pkwy NORTH to Old Country Rd EAST. Continue on Old Country Rd to Verdi's on your right.
From EASTERN Long Island: Northern State Pkwy WEST to Wantagh Pkwy SOUTH to Old Country Rd WEST. Continue on Old Country Rd to Verdi's on your left
- or - Southern State Pkwy WEST to Wantagh Pkwy NORTH to Old Country Rd WEST. Continue on Old Country Rd to Verdi's on your left.

---
We are hopeful that many more members will be attending these meetings because remember, this is your Association and if you have anything important to say, this is the time for it.
FOP LODGE 317 MEETINGS and EVENTS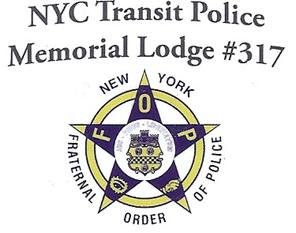 ALL MEETINGS START AT 7:00 PM AT THE NY STATE FRATERNAL ORDER OF POLICE BLDG. IN HICKSVILLE, NY
MEETING DATES FOR 2020
WEDNESDAY, MAY 20TH HAS BEEN CANCELLED
THURSDAY, AUGUST 27TH
THURSDAY, OCTOBER 15TH
WIDOWS AND CHILDREN'S LUNCHEON
SUNDAY, DECEMBER 20TH - 12:30 PM
DEFENSIVE DRIVER TRAINING SAFETY COURSE
scheduled for March 28th
HAS BEEN CANCELLED
2020 NYC TRANSIT POLICE FLORIDA REUNION
JUNE 26TH - 28TH
DAYTONA BEACH RESORT & CONFERENCE CENTER
2700 N. ATLANTIC AVE.
DAYTONA BEACH, FL 32118

https://nyctpfloridareunion.com/2020-reunion.html
The Reunion Committee is pleased to announce that we have completed negotiations with the Daytona Beach Resort for our 2020 Reunion. We feel good about returning to the same venue for a third year, in that they now know us and we know them. So there should be no surprises on either side. We want to thank those who took the time after the 2019 reunion to provide us with feedback. That information was extremely helpful in our negotiations. We are happy to advise you that while a number of changes were made to make your stay more pleasant in 2020, they were accomplished with virtually no change in cost. As in the past years reunions, the hotel has agreed to maintain the following;
A dedicated, in house, phone number for our reservations will be provided.
Additional clerks will be provided on Friday to expedite the check in process. Just a reminder that the official check in time is 4:00 PM. Under no circumstances, will the hotel allow a guest to check in early, if the room has not been cleaned.
Additional bartenders will be provided at the Tiki Bar and in the dining room. The Tiki Bar will be open until midnight on Thursday, Friday and Saturday, as long as people are present. In addition, we have maintained our previous discount drink pricing.
The hotel has agreed to have additional umbrellas poolside.
The hotel has agreed to open Reflections until 2:00 PM for people to eat their lunch in a comfortable, air conditioned setting. There will be table and bar service provided.
Reflections will serve a price fixed $10.00 hot breakfast menu. This will be available Friday, Saturday and Sunday.?
Arrangements have been made to provide our group with upgraded wine selections. They are Mezza Corona, Pinot Grigio, and Robert Mondavi Cabernet. You must request these wines by name when ordering, otherwise, you will receive the house wines.
We are happy to say that we have booked the same DJ, Kozmo, for our event. He has done a terrific job over our last two reunions.

The hotel will begin accepting reservations on Tuesday, February 18th between the hours of 10:00 AM and 6:00 PM. . While registrations should not be able to be made prior to this date and time, last year the hotel mistakenly took some reservations. This was unfair to those who waited to call at the designated time. To avoid this problem from occurring again should someone be able to get through and make a reservation earlier than the date and time proscribed THAT RESERVATION WILL BE CANCELED AND YOU WILL HAVE TO THROUGH THE PROCESS OF MAKING A NEW RESERVATION.
The first two weeks of reservations will be restricted to members and their families only. After that, registration will be open to all who wish to join us. We are doing this for a couple of reasons. First, there are a limited number of handicap accessible rooms available. We want our members to have access to them first. If you have such a need, PLEASE BOOK EARLY .
Secondly, if you have a desire for a particular type of room, suite, oceanfront, etc., book early. We will see that all attempts are made to accommodate your requests. THE PHONE NUMBER TO CALL IS 800-654-6216 . On March 3rd, registration will be open to all.

Also, while talking about reservations, please note that last year we filled our allotted rooms in less than a month. So we urge you to book early. If you are told that there are no more rooms in the North Tower, you may make a reservation in the South Tower and be put on a stand-by list for the North Tower. Once notified that a vacancy is available in the North Tower you may choose to move to the North Tower room or remain in the South Tower. Rooms in the South Tower are $15 per night cheaper. Our cut off is determined by two factors;

Our contract calls for the hotel to cease take reservations after May 25th or whenever we meet out allotment of rooms, which last year occurred before the contractual cutoff date.

2. Our determination is based on how many people we can fit in the dining room comfortably. That number is 290. When we hit that number the hotel will take reservations on a stand-by basis only.

The Guest Package Rates are: All package room rates include; Room for Friday and Saturday nights, Buffet dinner on Friday and Banquet dinner on Saturday. Also included are taxes, Resort Fee, Parking Fee and Internet Fee.
?
King Studio (1 guest/1 night)—-$122.63
King Studio (2 guests/1 night)—-Same as above
King Studio (1 guest-Package)—-$329.62
King Studio (2 guests-Package)—-$399.38

QQ Studio (1 guest/1 night)—-$133.88
QQ Studio (2 guests/1 night)—-Same as above
QQ Studio (1 guest-Package)—-$352.12
QQ Studio (2 guests-Package) -$421.88
Ocean View Suite (1 guest/1 night)—-$167.63
Ocean View Suite (2 guests/1 night)—-Same as above
Ocean View Suite (1 guest-Package)—-$397.12
Ocean View Suite (2 guests-Package) -$466.88

Ocean Front Suite (1 guest/1 night)—-$178.88
Ocean Front Suite (2 guests/1 night)—-Same as above
Ocean Front Suite (1 guest-Package)—-$407.26
Ocean Front Suite (2 guests-Package)- $489.38
After making your reservation with the hotel, please go to our website www.nyctpfloridareunion.com Under the 2020 reunion tab, you will find a link for "Florida Reunion Information". When you open this link, you will have an information sheet to complete. Please note that the information requested on this form is extremely important to the committee. Also, note that your hotel reservation WILL NOT be considered complete until this form is received. On this form you will have your meal selections for Saturday's Banquet. Also, there is a box for seating preferences. Please use this space to advise the committee on who you would like, or not like for that matter, to sit with at dinner Fri. and Sat. This box is also a good tool for you to make comments and or suggestions and let the committee know what you would like at or from YOUR reunion. After the form is completed, click the submit button on the bottom of the page, and your finished.
Again, the web page is www.nyctpfloridareunion.com. We urge you to visit it often, as we will be using it to pass along information, from time to time, about what will be happening at the reunion. If, for any reason, you make a reservation and then must cancel, PLEASE do not cancel through the hotel. Contact Marilyn Scahill directly via her email address which is on the website under COMMITTEE. By doing this, we keep the room available for someone else in our group. I assure you, WE WILL make the cancellation for you.
Looking forward to seeing you all in June!