November 24, 2021 LATEST UPDATE WITH NEW CITY HEALTH PLAN
From Marianne Pizzitola, President of the NYC Organization of Public Service Retirees NYCorgOfPublicServiceRetirees@gmail.com

Here is the link to the YouTube chat of the briefing we received from our attorney after today's attorney conference with the Court. The video link to the hearing was dropped due to the number of people trying to get in, as it made the system unstable. Instead of crashing the system, they just blocked us from it. We will work on that for the next one!
The short of it is, DO NOT OPT OUT of the ADVANTAGE PLAN YET, unless you are in AETNA or another plan that will not be open to you next year and you want to be in them. The City is closing enrollment in these other plans as of November 30th. So in your case, you should opt out as we are not sure if they will be available after November 30, as this case is moving slowly. If you are on Senior Care (GHI/Emblem Health) the attorney advises to wait, do not opt out yet. We know many of you expressed you were opting out under duress due to the misinformation by the City and Alliance plan. But wait.
The City and our legal team must submit documents to the court by tomorrow and the Judge MAY, make a new order by Monday. If he does not, the restraining order stays... until we get back to a hearing and he changes his mind.
So please relax. Do not be worried. The Court hears your concerns and our legal team is on this issue. We will update you next week.

October 22, 2021 TEMPORARY RESTRAINING ORDER AGAINST NYC HEALTH PLAN

From Alan Berkowitz berky4@aol.com

The fight aganst City Hall by a retiree group resulted in a Temporary Restraining Order against the City, in effect, removing the October 31st deadline for selecting a new health plan.

What comes next is the City has to submit a plan for review by the Courrt, especially in areas regarding pre-authorizations and physician participation in the plan. The retiree group argued that many physicians were not made aware of this plan and the issue of pre-authorizations was not made clear.
The court decision can be viewed here:

https://iapps.courts.state.ny.us/nyscef/ViewDocument?docIndex=6IWEHX2zIl_PLUS_h3WZMQeYVpg%3D%3D&fbclid=IwAR2wRz-9EO9Whn2wd7mVIQroqbFIEhM8vqCdVAd0P7AMskEqSVwap_f7gQs

October 9, 2021 OCTOBER MEMBERSHIP MEETING

Thanks to our Recording Secretary Bob Forrester and his lovely wife, Fran, for this report

Meeting was called to order at 1:15 pm followed by the Pledge of Allegiance to the Flag.
Treasurer Tony Lomanto updated information on the fellow retirees who passed away since the last meeting. A moment of silence was held for them and for family members who passed and for those on the Sick List, icluding our Sgt-at-Arms, Tom Greer who is home recuperating from recent surgery, along with our Armed Forces and fellow Police Officers serving in harm's way.

President Mike Lanning said the NY Reunion will be held at Antun's on November 16th. from 4:00 to 8:00 pm. Price is $65.00 in advance by check to Paul Murphy, or $75.00 at the door. Details can be found on the Meetings and Events page.
Treasurer Tony Lomanto advised the members that the Money Market Account will be closed and the funds transferred to the checking account. This was done as our annnual income has dropped as more members become Lifetime Members and regular annual dues stop. With ever increasing printing, mailing, and meeting costs, the asociation can only exist with the dues or donations. The cost for each edition of the newsletter alone is about $5,000.00. Next high cost is the membership cards and mailings. Donations are always welcome and appreciated, but please indicate if you want a coin sent as our thanks.
The Retiree Association Christmas and Holiday Party will be at Antun's on Dec. 16th at 1:00 pm. The March Meeting will be at Antuns and the May meeting is planned for Verdis. Other meeting locations and dates will be determined and the members will be notified far in advance. At this time, there will be no more meetings at the FOP Building as it is being closed for renovations. The Board has decided to hold luncheon meetings as more members are finding it difficlut to drive at night.
The next issue of "Beyond the Line" is now at the printer's and will be at the mailer on Tuesday the 12th, to be mailed out. Please keep in mind with the current postal slowdown on deliveries, and since the issues are not first-class, that makes it for even longer delivery times.

Executive Secretary Deo Fasolino mentioned that he sees many retired Transit Police Officers writing on Facebook and ending with "Transit Police Forever" and suggested they be contacted and asked to join the Society.
Tony Lomanto discussed the new City Health Plan and answered many questions from the members. Her mentioned the PBA, at a recent LI Shields meeting with Pat Lynch and a member of the Members Benefits department, felt the City plan was favorable over keeping the current Senior Care plan. The City plan offers the same coverage while the Senior Care will have both a monthly premium and will start to have co-pays with no maximum amount. It looks like the City Plan is favored but we caution members to make their own decison based on needs.

The drug plan was also discussed and it is advised you do not take out the drug rider unless necessary, as a drug plan is available through the line organizations.
We then gave a round of applause to our Financial Secretary, Greg Stripp, who does a grand job at the door.
After a delicious lunch, the meeting was adjourned at 3:50 pm.

Fraternally,
Bob Forrester

October 2, 2021 LATEST NEWS TO REPORT

I recently attended a meeting of the LI Shields this past Thursday. Present at that meeting was NYPD PBA President Pat Lynch who gave a very nice talk about the current conditions Police Officers face against the puiblic and how they should be respected for what they do rather than abusing them or demanding they be de-funded.

What followed was, to my surprise, a talk given by Paul Kelly of the PBA Member Services department. There was no talk about the arbitration issue started by the PBA, but rather their feelings about the City plan and the plan most retirees come under, the Emblem Health Senior Care.

Paul stated that the services under the City plan are basically the same as the Senior Care plan except for a few extras in the City plan, so why pay a monthly premium of almost $400 to get what you can get for a $0 premium? Both plans will have the same co-pays but the Senior Care plan will NOT have a maximum co-pay amount while the City plan will max out at $1470 a year. Also keep in mind that if you wish to be in the Aetna plan starting in 2022 ( $0 premium for NY, NJ & PA) ($20 premium for other states offered by Aetna) you must take advantage of the "Once in a Lifetime Exchange" to switch from your current plan to Aetna and enroll for November and December and pay the premium ($123 per person in 2021) , and submit the "Opt Out" form for the City plan, and select Aetna to start in 2022. Unless this is done, you cannot switch over to Aetna in the future.

The forms and comparison charts can be viewed in the September 6th posting below.

I still get many phone calls from the members asking our opinion as to the new plan vs. the old one. All we can say is make your choice based on the plan comparisons and if you are willing to pay the monthly premium that will come out of your pension check and remember....you must be enrolled in one of the City sponsored plans to receive the annual Medicare Part 'B' reimbursement. You can always change plans in the September & October switch over period for the following year.

September 12, 2021 REPORT OF THE SEPTEMBER MEMBERSHIP MEETING

The first membership meeting of 2021 took place on September 8th at Verdi's Caterers in Westbury NY. It was well attended with over 90 members present.
President Mike Lanning called the meeting to order at 1:05 pm with the Pledge of Allegiance to the Flag.
Treasurer Tony Lomanto thanked everyone for attending the meeting. He advised since our last meeting that sadly we lost 146 members, both to COVID and other health reasons. The members observed a moment of silence.
Guest speaker, Kim Parker, from the NYC Office of Labor Relations, spoke about the new health program called the NYC Medicare Advantage Plus Plan starting on January 1, 2022.
It is a customized plan from the City of New York and also a National Plan that members can take with them. It has the same Medicare guidelines.
Ms. Parker gave a very detailed overview of the plan and answered many questions from the members.
We should soon be receiving a booklet with enrollment guide and a detailed summary of the Plan. Ms. Parker also suggested that we could call 1-833-325-1190 for additional information.
Members enjoyed a delicious lunch after the meeting.
Meeting ended at 3;05 pm,
Respectfully submitted,
Robert Forrester

The City of NY has entered into a 5 year contract with the Federal Government to process claims for the retirees currently under Medicare.
The plan replaces the traditional Medicare and the supplemental Senior Care Program (Emblem Health/GHI) with a single program administered by an insurer approved by Medicare.
This new plan must follow Medicare rules and provide all benefits provided by Medicare along with other benefits. All retirees will be moved into this new plan unless they OPT OUT.
If you decide to stay with Senior Care, you will now be charged a premium of $194.40 per person and you will be paying co-pays. The City plan is '0' premium with co-pays.
Several members asked the question about pre-authorizations for a particular test. As was explained by Ms Parker, your doctor sends you for a test then submits the claim to
Medicare who then decides whether or not the test is required and either allows or denies it. With this City plan, your doctor submits a pre-authorization for a test and the City,
following Medicare guidelines, will either allow or deny the test. It's all a matter of authorizations before or after the fact.
NYC Health Benefits will mail all the information of this new plan to you sometime during September. You have the opportunity to either go with the new plan or submit the necessary form to OPT OUT.

September 6, 2021 LATEST NEWS UPDATES
I've been away on vacation out West with friends visiting wonderful and beautiful parts of this great country: Mt. Rushmore, The Badlands, Devil's Tower, Little Big Horn Battlefield, Yellowstone Park, Grand Tetons, and Jackson Hole WY. If you ever want to see these grand and spectacular sights, try to put them on your "Bucket List" and do it if you can. Life is too short!!! With that as an excuse, I am trying to catch up with the latest news, both good and bad. I have to thank our good friend and fellow "Gate Keeper," Lou Hollander, for re-sending all emails he sent out during that time. Cell service & Wi-Fi are virtually non existent in Yellowstone and other parts of this country. So...this is just about all I can post, as most of it refers to the new health plan the City is implementing. My apologies if I left anything out. Thank you and hoping to see many of our members living in the area to attend the membership meeting on the 8th where we will have a guest speaker to explain the new plan. Refreshments will be served after our guest speaker gives her talk.

Dear Retirees,
There has been a lot of information regarding the new plan. We are here to help you make sense of some of this information. We want you to know that you do have choices from now until December by using your "Once-in-A-Lifetime". So we are sending a comparison chart of the new Medicare Advantage Plus Plan and Aetna Medicare Advantage Plan (also a City's sponsored plan). Please review the first attachment, has a lot of good information that can help you make the right decision.

To enroll in the Aetna plan you will need to complete the following:

Health Benefits Program application and change form (second attachment)
You'll need to complete Section C (top right corner of the form)
Select "once and a lifetime change" choose a future effective date of 10/1/2021, 11/1/2021 or 12/1/2021
Aetna enrollment (third attachment) each Medicare eligible person and/or dependent will need to complete

Plan form 1 Plan form 2 Plan form 3

Alan Berkowitz and Harvey Feit as received from the Charlotte 10-13 Club
f you want to stay in your present health plan, including the Aetna Medicare PPO Advantage Plan, you MUST complete the opt out form
that can be accessed from the following link: https://nyc-ma-plus.empireblue.com/optout/#alert

Note: Each Medicare-eligible participant (i.e. retiree, spouse or dependent) must complete a separate opt-out form.
You also have the opportunity to switch to another health plan from now until December by using your "Once-in-A- Lifetime" option.

To enroll in the Aetna plan you will need to complete the Health Benefits Program application and change form. (See attachment).
You'll need to complete Section C (top right corner of the form).
Select "once and a lifetime change" choose a future effective date of
10/1/2021, 11/1/2021 or 12/1/2021

Each Medicare eligible person will need to complete the form.
You will also need to fill out the Aetna Medicare Advantage Enrollment Form. (See attachment).
Note: If you switch to Aetna in 2021 and then at a later date decide to try out the new
Medicare Advantage Plus Plan or GHI Senior Care plan, you'll have the
option to go back to the Aetna plan because you were previously enrolled.

You will not have this option if you were not previously enrolled.
Important information:

If you switch to Aetna in 2021 – then later decide to try out the new Medicare Advantage Plus Plan or GHI Senior Care plan, you'll have the option to go back to the Aetna plan because you were previously enrolled, you will not have this option if you were not previously enrolled
The City has flexibility on the lifetime change, if you later want to use it
If you choose to enroll in the Aetna plan from now until Dec. 2021; and you are enrolled in the GHI – you MUST complete the opt out form (fourth attachment) (this was the last plan you were enrolled in so this the form you need to complete)
If you are an Aetna member today – you will need to complete the opt out form – that form is forthcoming within the next week or so

We hope this information is helpful.
From the NYPD CEA
NYC MEDICARE ADVANTAGE PLAN
Please use the below link to ascertain if your present Doctor is a provider in the NYC Medicare Advantage Plan.
This link has instructions to navigate the website.https://wwwempireblue.com/find-care/
Step 1- go to empireblue.com
Step 2- click on Find Care found at the top right corner
Step 3- click Guest
Step 4- select the following drop downs
What type of care are you searching for?
MEDICAL
What state do you want to search with?
Select State
What type of plan do you want to search with?
MEDICARE
Select a plan/network
NYC Medicare Advantage Plus
Step 5 – Click Search
You'll be able to search by specialty, name, NPI number, License number
Members can also call the NYC Medicare Advantage Plus Call Center at 833.325.1190A THANK YOU LETTER TO CHIP HAYES
This is the link for the comparison chart of the different health plans:
https://www1.nyc.gov/site/olr/health/retiree/health-retiree-responsibilities-assistance.page?fbclid=IwAR0ow-meV8qZkx4pZjpFc67XC1l2wGESuO7pdhHkST68RchcVxARnx6f0QU




August 22, 2021 CHARLES McCRAY REQUESTING ASSISTANCE IN A 9/11 MATTER &
UPDATE FOR AETNA HEALTH CARE SUBSCRIBERS



Hello all,

This is Charlie McCray cemccray@aol.com

I am trying to get in touch with someone who is fighting a 9/11 related illness and is willing to be interviewed and televised.
If you know someone, or have information on someone, please give them my information. They can email me 9/11 RELATED.

Thanks
Be well
Charles
---
From Alan Berkowitz berky4@aol.com

All retirees who are presently enrolled in Aetna and live in the 14 states (NOT NY-NJ-PA) including Florida that presently receive Aetna as their health care provider will pay $44.00 per month as of January 1st, 2022. The monthly premium will be $44.00 per month for each eligible Medicare recipient. A husband and wife will pay $88.00 per month collectively. This is a NO deductible, NO co-pay plan. Same as before!

Alan Berkowitz





August 20, 2021 LATEST INFORMATION ON NEW CITY HEALTH PLAN

From Lou Hollander and Alan Berkowitz as received for the Retired Sergeants Benevolent Association. Note the highlights in RED




UPDATE TO
Medicare Advantage Information


Effective 08/18/2021
1. Members are "strongly" encouraged to attend any scheduled webinars, in person-seminars or call NYC Medicare Advantage Plus Plan dedicated telephone number at 1-833-325-1190, Monday to Friday, 8 a.m. to 9 p.m. for "factual "and up to date information on how the plan change effects them individually.

In an attempt to encourage Medicare participants to "field test" the new Medicare Advantage Plus Plan members currently enrolled in HIP- VIP Premier (HMO) will be able to remain (grandfathered- participants) indefinitely in that plan and it will remain a zero - premium plan for at least the calendar 2022 plan year. Current HIP VIP Participants will be allowed to enroll in the new NYC Medicare Advantage Plus Plan, without waiving their right to return to HIP VIP, for any reason, effective January 2023. This is a one- time change that expires after 2022 enrollment period.

***Note: No new entrants will be allowed to be enrolled into this plan going forward.

In an attempt to encourage Medicare participants to "field test" the new Medicare Advantage Plus Plan members enrolled in any of these currently available Medicare Plans* will be able to remain in the below plans (grandfathered- participants) however updated rates are still pending. Current participants will be allowed to enroll in the new NYC Medicare Advantage Plus Plan, without waiving their right to return to the below plans, for any reason, effective January 2023. This is a one- time change that expires after 2022 enrollment period.

*Note: No new entrants will be allowed to be enrolled into these plans going forward.
***Note: This is predicated on these plans continuing to be available into Calendar 2022 and beyond and available thru the sponsoring medical carriers.
o Aetna Medicare Advantage Plan PPO/ESA (NY/NJ/PA)
o Aetna Medicare Advantage Plan PPO/ESA (all other areas)
o Cigna Health (AZ)
o Empire Medicare
o Empire Medi Blue (PPO)
o GHI HMO Medicare Senior Supplement
o Humana Gold Plus
o United Health Care Group Medicare Advantage Plus (Horizon) NYC
o United Health Care Group Medicare Advantage Plus (Horizon) NJ

2. Extremely Important Information: There is a significant conflict, within Medicare guidelines, that member's must be aware of. The issue is triggered when participants in a Medicare Advantage plan concurrently enroll in an independent Prescription Drug Program (PDP) such as Humana or AARP. This act leads to a termination of medical/hospital coverage. We are aware there are members or dependents, currently in GHI-Senior Care Plan*, enrolled in the SBA Prescription Drug Plan and purchased a supplemental Part D drug coverage thru an independent PDP. Those members that are moving to the new NYC Medicare Advantage Plus Plan cannot be dually enrolled in the MA Program and the independent PDP and must disenroll themselves from the PDP program.

The SBA, after multiple discussions with the NYC-Office of Labor Relations and the Municipal Labor Committee has been able to obtain access, for our members to the NYC Medicare Advantage Plus Plan" Drug Rider." This qualified Medicare Part D drug plan is a reliable and undisruptive platform where members looking for supplemental prescription coverage can safely enroll. We encourage those participants losing their ability to purchase an independent PDP to avail themselves of this benefit. Members will need to enroll in the "drug rider" during the October 2021 enrollment period and will only be allowed access annually during future Fall changeover periods.

*Note: Members that opt for a "buy up" to the GHI-Senior Care can still procure simultaneously an independent PDP plan with no conflict.
3. The Alliance (Empire and Emblem Health) is actively communicating and publicizing the NYC Medicare Advantage Plus Plan nationwide. They are corresponding with their in- network Medicare Providers and providing extensive outreach nationally targeting out network providers, who accept the Medicare Reimbursement scheduled rates, encouraging them to join the network or educating them how to navigate the new plan and receive reimbursement for services.
4. Effective January 1, 2022 all new Medicare participants, or existing Medicare participants, outside those grandfathered, within the NYC Health Plan, will only have the option of enrolling in the NYC Medicare Advantage Plus Plan or the "buy up" GHI Senior Care (PPO) Program going forward. Annual changeover periods movement will be limited to these two programs. There will be no new plans becoming available to NYC Medicare participants into the future.
5. There are no conversations going on discussing elimination of the Medicare Part B reimbursement or the IRMAA. Anyone saying anything different is a liar!! That said Medicare participants are "strongly reminded" that any member who disenrolls or waives Medicare coverage from the NYC Health Benefits plan will be ineligible to receive the Medicare Part B reimbursement or the IRMAA.
6. Members will have on hand, as part of the Pre-Enrollment Guide (September 2021), an Opt-Out Form. This form will be used "only" if a Medicare participant chooses to opt out of the NYC Medicare Advantage Plus Plan.

Important: Any member failing to document a decision to OPT OUT of participation in the new NYC Medicare Advantage Plus Plan and remain in their current plan by forwarding the required form, in a timely manner and as directed, will automatically be enrolled in the new NYC Medicare Advantage Plus Plan.
Look out for the following communications from NYC OLR regarding the new
"NYC Medicare Advantage Plus Plan"


NYC OLR website for NYC Medicare Advantage Plus Plan announcement letter:
https://www1.nyc.gov/assets/olr/downloads/pdf/health/retiree-ma-letter-073021.pdf

Latest frequently Asked Questions:
https://www1.nyc.gov/assets/olr/downloads/pdf/health/ma-faqs-08-12-21.pdf

For further information NYC Medicare Advantage Plus Plan dedicated telephone number at 1-833-325-1190, Monday to Friday, 8 a.m. to 9 p.m.
New ID Cards for participants in the NYC Medicare Advantage Plus Plan will go out after the enrollment period and arrive by mail sometime in November 2021. This will be followed by a Welcome Kit mailing in December 2021.
Fraternally,
Larry Kelly, President
Bobby Cotumaccio, Vice President

Retired Sergeants Association

August 13, 2021 COST OF LIVING (COLA) INCREASES

As appeared on the NYCERS website, NYCERS has announced the Cost Of Living Amount (COLA), starting with the September 2021 pension payment, will be 1.4%. This means a whopping increase of $21 a month rather than the past several years of only a $15 increase.

For those on Social Security, the word is a COLA increase higher than anything else since around 2008, and could be as high as 6.3%.
Who has it better than us????





August 5, 2021 STREET RE-NAMING CEREMONY FOR THE LATE DEP. CHIEF VINCENT DeMARINO




A very touching street re-naming ceremony took place today in North Valley Stream, Long Island, to honor the late NYPD Deputy Chief Vincent DeMarino, who passed away in December, 2019, from cancer as a result of his working at the 911 WTC site. Many local Nassau County politicians were in attendance to honor Vincent and the DeMarino family in front of his home. Several of Vincent's children and grandchildren became NYPD, Long Beach and other agency Police Officers. A funny story, as told by Ron Kearney, is that Ron advised Vincent to take the Transit Police test while he was still a PAA in the NYPD. Years later, Vinnie processed Ron when he retired. Mark Lipira remembers when as a Sgt. he welcomed Vinnie into District 2.



.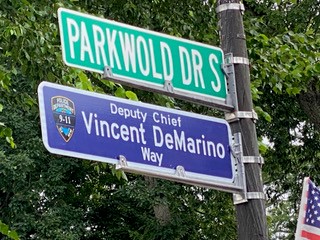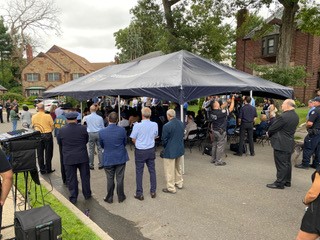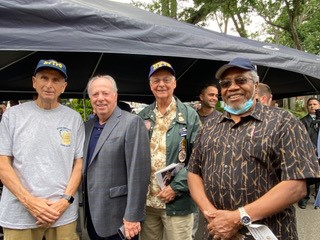 Street re-naming sign Ceremony gathering John Rini, Fred Ametrano, Ron DiMaio, Charles McCray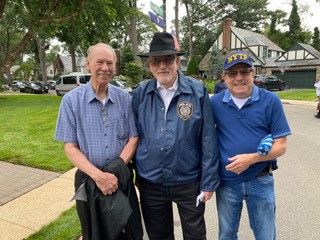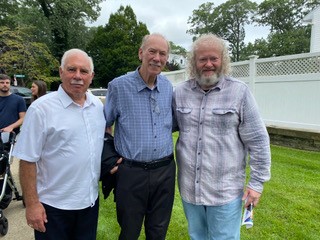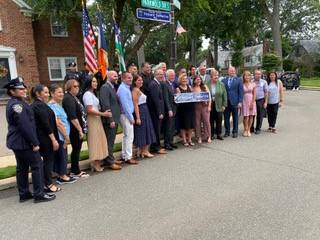 Ron Kearney, Rabbi Berkowitz, Tony Lomanto Mark Lipra, Ron Kearney, Bob Betz DeMarino Family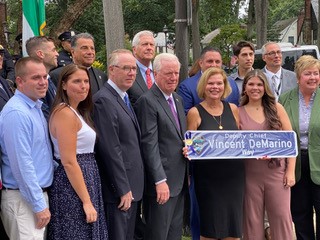 Bob Ganley (c) next to Mrs. DeMarino

August 4, 2021 LATEST ITEMS OF INTEREST
The latest information we have on the City's plan to change our health benefits is their announcement that all retirees affected by the change will be receiving information explaining the new plan with comparisons to the existing ones and what any charges will be. Basically, if you don't select an alternative plan, you will be changed to the new Medicare Group Advantage Plus plan tht will take effect January 1, 2022. The PBA has reported they will be submitting this to arbitration as the PBA is not part of the Municipal Labor Council (MLC) which signed the agreement with the City and they feel this benefit is an item subject to contract negotiations.

On a much happier note, Lou Hollander has made plans for a ROMEO luncheon in Florida. Those details can be found on the Meetings and Events page.

July 25, 2021 LATEST NEWS OF NYC MEDICARE ADVANTAGE HEALTH PLAN FOR RETIREES
From Alan Berkowitz & Lou Hollander as received from NYPD PBA

Good Day
In response to your Inquiry please be advised that at this time the NYC PBA has received information that the NYC is encouraging Medicare eligible retirees to change over to a newly approved by NC Medicare Advantage Plan which is not one of the previously offered plans. This Advantage would administer both the Medicare and the secondary benefits with one card and give the member a Medicare D Plan for prescriptions. Med D would then be the primary prescription coverage the PBA/Caremark plan would be secondary and reimburse your copayments. The members would not be loosing any coverage, it is merely a change in coverage.

In August NYC is sending information to elect the Advantage Plan or stay with your current coverage. If you elect to stay with your current coverage a premium will be charged. These change are supposed to take effect 1-1-2022.

You can click the link included below to see the full information to date on the New advantage plan from NYC.
https://www1.nyc.gov/office-of-the-mayor/news/497-21/mayor-de-blasio-commissioner-campion-new-improved-health

As to your inquiry regarding legal action at this time. The City of New York both pays for and administers the Health and Hospital coverages for all of our members. Neither the active member or retired member dues pay for any of the benefits. NYC by contract is required to provide benefits for life for our members however, (italics are mine-Tony) than can make changes to these benefits as may be required. The PBA Heath and Welfare Fund acknowledges that these changes may cause frustration for our members the City of New York will be making these changes to our members benefits. At this time however the NYC PBA will not be issuing any official statements.
Paul Kelly │Member Services | PBA Health and Welfare Funds Office
p- 212.349.7560 f- 212.437.9480
PBA Funds Office | 125 Broad Street 11th Floor, New York, NY 10004
Email: pkelly@nycpba.org

The plan may be viewed HERE



July 16, 2021 CURRENT NEWS ON NYC GROUP MEDICARE ADVANTAGE PLAN
City of New York
Medicare Coverage Changes
Effective January 1, 2022

As a follow-up to our last Medicare program update on June 30th, 2021, the Municipal Labor Committee met on July 14th to formally vote on adopting a new NYC Medicare Advantage Plus Program effective January 1, 2022. The MLC General Membership voted overwhelmingly to award the contract to "The Alliance," a joint bid from Emblem Health and Anthem, to administer the new plan for all City Medicare retirees.

This award ensures that no premium contributions will come out of retirees' pension checks and active members' paychecks. All savings generated from this RFP have been collectively bargained by the MLC to be deposited into the unions' Stabilization Fund which will extend free healthcare to all retired and active City workers for several more years.

As we stated last month, there has been a large amount of negativity being circulated amongst the City's Medicare population as they feel changing to a Medicare Advantage plan will be a degradation of benefits. This is not the case. Members are equating the individual Medicare Advantage plans advertised on television with the customized plan that was collectively selected by the City and MLC. The plans are in no way similar to the customized group NYC Medicare Advantage Plus Program that was awarded to the Alliance. The Alliance plan is far superior and comprehensive in nature and, according to our MLC consultants, 850,000 physicians (approximately 99.5% of all physicians in the United States) who accept Medicare will accept the NYC Medicare Advantage Plus Program.

The Alliance plan allows Medicare retirees to go to any doctor or hospital that accepts Medicare regardless if that provider is in the insurer's network or not. As long as the provider accepts payment from Medicare, they are obligated to accept the NYC Medicare Advantage Plus Program payment. This includes all hospitals in the NYC area, including those at Memorial Sloan Kettering and The Hospital for Special Surgery (HSS), and almost all hospitals nationally. The program is a national program, so it covers retirees in any State which they work or reside or when they travel.

While the Alliance plan will cover all services that are covered under traditional Medicare, it will also include coverage for the following additional benefits: routine foot care; annual preventive physical; worldwide emergency coverage; Healthy Meal Delivery; Healthy Pantry; Medicare Community Resource Support; Health Fitness Tracker; non-emergency transportation; a Wellness Incentive card; and telemedicine. The NYC Medicare Advantage Plus Program also includes a spectrum of Care Advocacy resources and Care Management programs not included in the Senior Care plan.

The new contract will be a five-year agreement and will be effective January 1, 2022, and will save the City and unions $600-$650-million per year for the next five years. In addition, the PICA RFP that was recently completed will save an additional $317-million over three years. The MLC has a written agreement with the City that every penny saved from both these RFPs will accrue to the unions' Stabilization Fund, thereby extending a "no contribution" medical program to both our active and retired members for the next several years. In addition, the City has agreed that Medicare Part B premiums, which will still be required under this new plan, will continue to be reimbursed by the City as has always been the case.

The Alliance is working on member communication pieces that they will mail to all Medicare participants in early August detailing all components of the new Custom Group Medicare Advantage program. In addition, there will be a call center established by the Retiree Alliance to handle inquiries at that time.
This new program will replace GHI Senior Care and continue to be the $0 cost plan for all City Medicare eligible members. It was agreed by the City and MLC that the Emblem Health Senior Care and HIP VIP plans will continue to be an option going forward; however this will no longer be a no-cost option.
The estimated cost for these programs would be approximately $200 per month.

Future plan changes, opting in or out, can be made during future annual fall open enrollment periods. It is strongly believed that once Medicare members experience the new custom group Alliance Medicare Advantage Plan that members will not desire a return back to the Senior Care program. Families who have both a Medicare eligible member as well as a non-Medicare eligible spouse, known as a split contract, will only have a change to the Medicare eligible member's plan. The non-Medicare eligible family member will continue to be covered by the same plan, regardless of plan carrier.

The DEA will continue to keep our members apprised as the plans are rolled out.


July 12, 2021 STATUE ERECTED TO HONOR SON OF RET. LT. PATRICK WALSH
The following story appeared in Newsday, July 6th.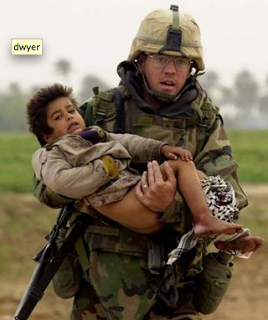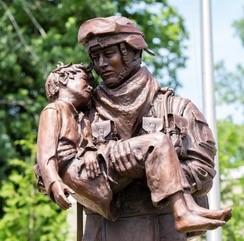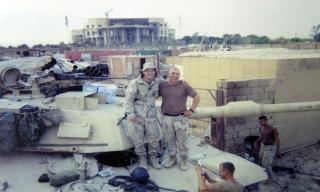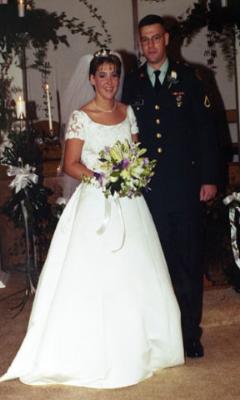 A statue was erected at the Brookhaven Veteran's Memorial Square in Rocky Point, LI, of U.S. Army PFC Joseph P. Dwyer, son of member Ret. Lt. Patrick Dwyer.
The statue depicts the photo taken in 2003, of Joseph carrying a wounded child from a battle site in Iraq. Sadly, Joseph passed away in 2008 after suffering greatly from PTSD.

At the ceremony, held on June 28th with the Dwyer family, Brookhaven and VFW officials in attendance, Brookhaven Supervisor Edward Romaine called Dwyer "a dedicated soldier whose compassion for those in need is clearly depicted in this memorial."
In 2013, the State launched the Joseph P. Dwyer Veteran's Peer Support Program to counsel risk veterans and their families.

From Pat Walsh:

Thanks for pointing out the Newsday article; it was nice. Putting it in our association's newsletter would be fine. I have also attached some additional photos. The original photo that appeared in USA Today, also Joseph sitting on an Abrams battle tank while with the 7th Calvary on the first days of our march to Baghdad. It was the 7th that led the charge, the "Tip of the Spear," so to speak. I have also included his wedding photo with him and his bride Matina.
The last attachment is a NY Times editorial that highlights veterans like Joseph who are often neglected and left to deal alone with the effects of combat. Very shameful of our nation, but it is changing after hearing stories like Joseph's.

The NY Times article can be viewed HERE
Peace and the joy of the Lord always,
Sincerely, Pat


July 12, 2021 LATEST UPDATE ON PROPOSED GROUP MEDICARE ADVANTAGE PLAN FOR RETIREES
From Lou Hollander keystonecop1@verizon.net as issued by NYPD SBA

A decision has been made regarding the impending NYC OLR Medicare Advantage Group Plan Request for Proposals.
The Medicare Advantage Plan has been awarded to "The Alliance," a coalition comprised of Emblem Health and Blue Cross. The Municipal Labor Committee (MLC) is scheduled to approve this plan next week. This new Medicare Advantage Group Plan is scheduled to be implemented January 1, 2022.
The NYC Office of Labor Relations will be mailing communication materials and plan selection forms in the near future. Medicare participants will have the option to remain in traditional Medicare (GHI-Senior Care) or HIP-VIP after agreeing to pay a monthly premium cost.
Please review the attached presentation, which describes the new Medicare Advantage Plan as contrasted with the current GHI-Senior Care program.
Please Note: This plan change "does not" in any way affect the annual Medicare Part B reimbursement or the IRMAA. This change does not affect any SBA provided (Pharmaceutical, Dental, Optical) benefits.

Click HERE to view the plan and information. It appears to me that staying with Emblem Health (GHI) Senior Care plan, which most of us have, will result in a monthly premium being charged (taken out of your monthly pension check/deposit) that was never done before.


July 2, 2021 EMAIL RESPONSE FROM PBA ABOUT OUR HEALTH PLAN
From Alan Berkowitz berky4@aol.com
Patrick Lynch asked me to respond to your email regarding certain proposed changes to the City Health Plan for Medicare-eligible retirees, which is currently being considered by the City and the MLC.

As you may know, we have always maintained that we are the exclusive bargaining agent for all New York City Police Officers, and therefore, the City of New York must negotiate directly with the PBA as we have not ceded that authority to the MLC or anyone else for that matter. We have reminded the City and the MLC of our position in this round of bargaining as well. With that said, however, as you may also know, traditionally, our negotiated collective bargaining agreements and arbitrated awards have generally included similar health savings provisions as the MLC Agreements, with some variations (e.g., in the 2006-2010 Collective Bargaining Agreement, we negotiated for an additional health and welfare contribution inflator that increased contributions made by the City to our Active and Retiree Funds automatically in accordance with the percentage of wage increases – an unprecedented provision at that time that no other union was able to achieve, and to this day most still do not have). That is why we always continue our fight for more.

It should be noted that the MLC and the City have neither selected a Medicare Advantage carrier nor conducted a vote of the MLC membership. Because we know that the changes could ultimately affect our retirees at the collective bargaining table or by way of an arbitration award, the PBA has been monitoring the progress of the Medicare Advantage negotiations with the City and MLC and voicing our members' concerns at MLC meetings. We will be informing the membership of the outcome when available.

While we share your and many retirees' concerns about the proposed Medicare Advantage Plan, we are informed that it is unlike traditional Medicare Advantage Plans in significant ways; however, we are always skeptical, and know that the devil is always in the details. For this reason, as a rule, we do not believe the slanted representations from the proponents of the changes, the City and MLC leadership, without seeing their representations in writing, and even then, we reserve judgment until after we evaluate the practical impact it has on affected City Medicare-eligible retirees.

Thank you for your e-mail.
Stay safe!
Fraternally,
David Nicholson
Funds Administrator
Health & Welfare Funds
Police Benevolent Association
Of the City of New York, Inc.
125 Broad Street, 11th Floor
New York, NY 10004
(212) 298-9202

July 2, 2021 WTC HEALTH PROGRAM & VCF DEADLINES
The latest information received can be viewed HERE The attached letter is to help clear up some confusion regarding the WTC Health Program and VCF deadlines.

June 23, 2021 NYC 'DIAPHRAGM LAW' RULED UNCONSTITUITIONAL

From Ed Mullins, President NYPD SBA

Dear Fellow Sergeant,

As you know, on June 18, 2020 – slightly more than three weeks after the death of George Floyd - the New York City Council passed terrible legislation seeking to criminalize "sitting, kneeling or standing" on a suspect in a manner that "compresses the diaphragm."
This law, referred to as the Diaphragm Compression Bill – defied common sense and was clearly a cheap effort to score political points with the anti-police movement. Mayor de Blasio - true to form - signed it into law almost immediately.
We knew then and we know now that we were right when we said that the law unfairly set police officers up for arrest simply for doing their job.
We immediately responded to this ridiculous law by leading a contingent of law enforcement unions, which included the New York State Police, MTA Police, the Triborough Bridge and Tunnel Police, the Port Authority Police, the Court Officers Benevolent Association, and all four New York City police unions to challenge the law.
I am glad to report that today (June 22nd), the New York State Supreme Court ruled that the law was unconstitutional.
This is an important victory for law enforcement and for the SBA. Not only does this decision eliminate the possibility that you could face criminal prosecution for unintentionally kneeling, sitting or standing on someone's torso while making an arrest, it sends a clear message to the City Council and the Mayor that their anti-police policies will be challenged and defeated.
We will continue to fight for your rights and challenge those laws which make us ALL unsafe. This victory is an important first step in our battle to win back the City.
Fraternally,

Ed Mullins
President
Sergeants Benevolent Association

Congratulations on a job well done, Ed! Being a Police Officer is getting more difficult every day.

June 21, 2021 PLAQUE DEDICATION CEREMONY FOR P.O. WILLIAM MARTIN
A ceremony honoring the 10th Anniversary of the passing of Transit P.O. William Martin took place on June 19th at the Transit District 4. A plaque was installed in the District honoring a fellow officer who was severely beaten while on patrol many years ago, suffering injuries that ultimately caused his death.

June 12, 2021 UPDATE ON USE OF FORCE BILL S6615
From Mike Essig, President NYS FOP

Last night, June 10th, both Houses of the NYS Legislature adjourned their 2021 session without advancing Bill S6615 out of either House. This Bill was not brought to the floor for a vote thanks to the efforts of our members, families and the communities we serve who support the police and showed their displeasure with this piece of legislation.

Thank you all for helping to defeat this horrible legislation. We all need to stand in unity and with your continued efforts, we will keep Law Enforcement Officers safe and be ready to stand in opposition to this proposed law should it be revived in the future.

Please share this with your members,

Thank you and Stay Safe !
Michael Essig
President

May 13, 2021 2020 IRMAA REIMBURSEMENT FORM NOW AVAILABLE
The NYC Health Benefits program has issued the IRMAA form for the 2020 Medicare Part B reimbursement. Please note that it also covers the years 2019 & 2018 if applicable and you have not submitted the form for any of those past years.

If an amount exceeding $1735.20 for Medicare was taken out of your Social Security payments and is shown on the 2020 SSA-1099, you most likely were penalized with IRMAA and you should submit the form to Health Benefits for the reimbursement.

You must also submit the required Social Security forms and they must be submitted electronically to the leapfile.net website indicated on the form.
The form can be found here: https://www1.nyc.gov/assets/olr/downloads/pdf/health/irmaa-form-2018-2020.pdf

These were the rates for 2020 based on your 2018 Federal Income Tax return::


April 6, 2021 UPDATE AND RESPONSE FROM TOM GREER ABOUT THE GAME TICKETS
We recently sent out an email to our members reminding them of the Mets - Yankees game tickets available for September 11th, which is also the 20th anniversary of that fateful day. A few replies questioned our decision of even having the tickets in light of the controversy of MLB and their questionable attitude towards Police Officers in the country as a result of the George Floyd incident and subsequent BLM protests.
We would like to point out that all the tickets purchased were before any of those events took place and the Mets were offering group tickets first to previous purchasers and the chance to get better seating and dates.
In Tom's words: "Thank you. That's a true statement. We already had purchased the tickets before all BLM and other upheavals took place.
If someone doesn't support MLB, they can choose not to participate. I'm not giving in to cancel culture because a few members object. I run this game in the remembrance of my father (the late Ret. Transit P.O. Thomas Greer of District 20) and to keep his memory and all the traditions of the Transit Police Family alive I love this organization and feel very honored that I am a member and that I can give my time and efforts to keep the spirit alive of the New York City Transit Police Retirees
Tom also called our Mets representative regarding the possibility of paper tickets to save as a souvenir. Unfortunately, all tickets will be digital. Tom would advise everyone the need to reach out to me with their email addresses and cell numbers. Also, people with smartphones must download the MLB Ballpark app so he can forward the tickets to them. If not, those who don't have a smartphone may have to go to the box office on the day of the game and have them give them something to get them in. They are citing covid concerns. Probably will have no cash at the concession stands either. Thank you.

The Executive Board and members rightfully thank Tom for all he has done for this organization.

April 5, 2021 2020 MEDICARE PART 'B' REIMBURSEMENT PAYMENTS
Thanks to Lou Hollander and Alan Berkowitz for forwarding this good news

The Medicare Part 'B' reimbursement for the year 2020 will be sent out on or about April 15th. The amount will be $1735.20 for individual, and $3470.40 for a couple. This payment is based on the monthly payments deducted from Social Security of $144.60. The IRMAA forms to recoup the difference will be available in May and will be paid out in October, 2021.

More information will be posted here as information becomes available from the City of NY.

March 27, 2021 OUT OF STATE RETIREES AND PROBLEMS WITH GHI (EMBLEM HEALTH)
Sent out by Lou Hollander keystonecop1@verizon.net as received from Ret. NYPD Detectives Association


GOOD NEWS FOR OUT OF NY AREA RETIREES AND PROVIDERS
Emblem/GHI Update - a win for Retirees!
Recently, it has been a challenging time for NYPD Retirees, and your RDNY Board has been working hard to stay in front of the matters that effect our members. As many of you know, the panels that approved Emblem/GHI physicians to participate had been closed to providers outside of the NY area. They were effectively removing participating Doctors through attrition with no replacements allowed.
This was brought to our attention through Bill McMahon, a Florida resident, Retired Sergeant and former Delegate. He also coordinated efforts with Errol Ogman of the SBA. We at the RDNY were in discussions with the DEA and their health benefits point man and made every effort to get the word out to the thousands of retirees in our organization.
WE SPOKE - THEY HEARD US!
The panels have been re-opened! Providers can now (again) enroll as participants.
Please visit the www.RDNY.org website, where you will find the necessary forms that you may provide to a Health Care Provider to enroll with Emblem.

March 26, 2021 FEMA OFFERING SOME FUNERAL EXPENSES FOR COVID RELATED DEATHS
FEMA now has a Funeral Cost Assistance program for deaths that were COVID related and occurred between Jan - Dec 31, 2020.
See attached link for further information. COVID-19 Funeral Assistance | FEMA.gov

March 19, 2021 LATEST UPDATE ON MEDICARE RE-IMBURSEMENT & METS-YANKEES GAME TICKETS
From Lou Hollander as received from NYPD Ret. Sgts Association



MEDICARE REIMBURSEMENT DIFFERENTIAL


The 2019 Medicare Reimbursement differential payments will be mailed out Friday, March 19, 2021. For members who get their pension check via direct deposit, the 2019 Medicare Reimbursement differential payments will be made available via direct deposit on Monday, March 22, 2021. Any member who does not receive payment should contact the Office of Labor Relations at healthbenefits@olr.nyc.gov with inquiries.

MEDICARE REIMBURSEMENT UPDATE

The Office of Labor Relations will be issuing the remaining differential payments for 2019 in March 2020. Then they will issue the rebates for 2020 in April 2020.. Retirees should then compare the amount they receive to their social security statement for 2020 (form 1099) and prepare and submit the appropriate form described below for any shortage. The payment will be sent to the same account as your monthly pension .
Members who receive an actual pension check will receive the rebate at the same address as their pension check.

NYC Office of Labor Relations (OLR) has updated the procedure for members to submit Medicare Part B related forms and supporting documents. Please disregard the email address previously printed in the CHEVRON.

Submission of the following forms, along with all required documents, must now be electronically submitted to: https://nycemployeebenefits.leapfile.net/

• Medicare Part B Reimbursement Program Application
• 2019 Medicare Part B Reimbursement Differential Request Form
• IRMAA Medicare Part B Reimbursement Application (for 2019, 2018 & 2017)

You can obtain any of the above forms by clicking on them. The forms are self-explanatory and lists the required documents needed to be submitted with the form.

For instructions on how to use LeapFILE to submit forms and documents, please visit:
https://www1.nyc.gov/site/olr/health/retiree/health-retiree-leapfile-instructions.page

2020 forms should be available on OLR's website https://www1.nyc.gov/site/olr/health/retiree/health-retiree-medb-irmaa.page by April/May 2021.

OLR Health Benefits Retiree walk in center remains closed. All inquiries and questions can be emailed to: healthbenefits@olr.nyc.gov I have spoken with numerous members who stated that they have received responses in a timely manner.

For additional information regarding Retiree - Health Benefits Program, please visit: https://www1.nyc.gov/site/olr/health/retiree/health-retiree-responsibilities-assistance.page

March 15, 2021 PTL MIKE MELCHIONA MEMORIAL MASS CELEBRATION
From Lou Hollander
keystonecop1@verizon.net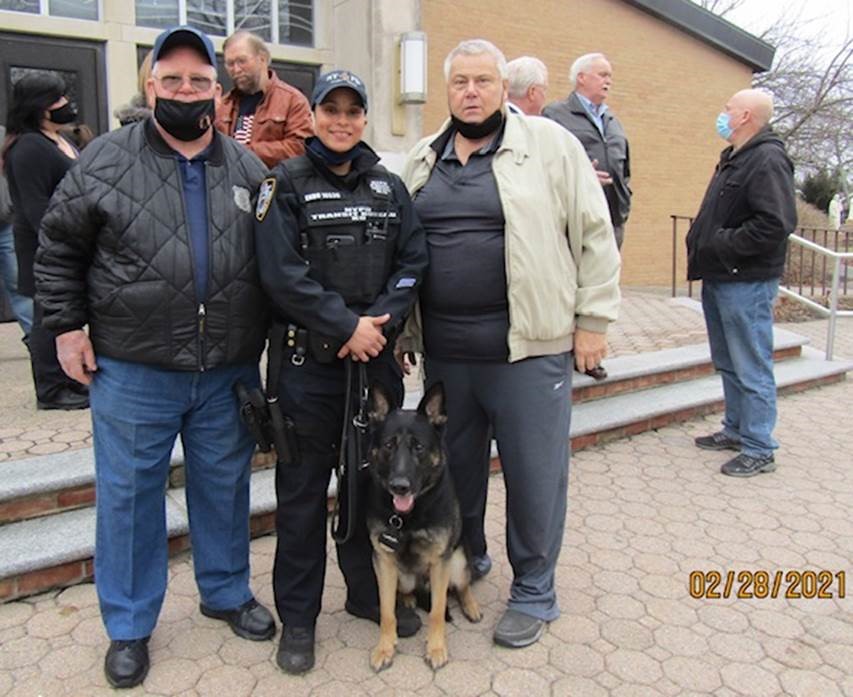 Henry (L) and his brother Tom with NYPD PO Juliana Endo and K-9 "Mel" named in honor of Ptl. Mike Melchiona
on the anniversary of Mike's death while on duty.

March 3, 2021 NEW VSF BILL INTRODUCED IN ALBANY
From Lou Hollander and Alan Berkowitz

Senate Bill S5107 has been introduced by Sen. James Sanders, Jr. of Queens.
The bill extends the benefits of the Variable Supplements Fund to all New York city police officers, firefighters, housing police, transit police, correction officers and registered domestic partners

What this Means:
A legislative committee is a group of lawmakers assigned to review bills related to a particular policy area. Before S5107 can be put to a vote before the entire Senate, it must first be approved by members of one or more legislative committees.

What Happens Next:
The committee may amend the bill to satisfy concerns of committee members, leave it as is, or refer it to another committee for further deliberation. The bill may be reported to the full Senate chamber for consideration if a majority share of the committee members support it. If a bill has not been addressed by the committee by the end of the two-year legislative term, the bill is said to have 'died in committee'.

What Can I Do?
All members of the Senate welcome legislative feedback from constituents at nysenate.gov. When you use the New York State Senate website to officially support or oppose this bill, your feedback will be shared directly with your senator.

The bill can be viewed here: NY State Senate Bill S5107 (nysenate.gov)

January 26, 2021 MEMBERSHIP CARDS LOST IN MAIL
If you are a Lifetime or Honorary member or if you have sent in your dues for 2021 weeks ago, and not received your membership cards, please contact me by phone at 516-526-7968 or email at alomanto@optonline.net . I recently received an envelope from the Post Office containing several membership cards that either fell out of opened envelopes or were ripped open during the postal operations.
We have reeceived a number of phone calls asking about the Differential forms that were sent in by regular or Certified mail. Despite having a signed receipt from Health Benefits for that mail, retirees are still being directed to submit their forms and accompanying documents electronically. At the bottom of the 2019 Differential form are the directions for submititng them to their website, and not by mail.
Their website, as shown below in the October 23rd posting is: https://nycemployeebenefits.leapfile.net

So, even if you mailed the form, you must re-submit it again to the website.

December 23, 2020 IMPORTANT INFORMATION IN CORRESPONDING WITH THE CITY OF NEW YORK
It is a sad fact that as we are getting older, we are seeing more fellow retirees passing away. Many times, we are asked by the surviving spouse or children as to what procedures should be followed after the retiree's death. This PDF should be helpful in contacting different City agencies and associations who will help you. We wish to thank Lou Hollander and possibly Alan Berkowitz, too, who sent this out a few years ago.
Click on this LINK for the PDF file.

December 9, 2020 MYSTERY BOOK REVIEW
From our Honorary Police Surgeon Doc Ente
A BLOCKBUSTER EASY READ NEW MURDER MYSTERY WITH A HUMOROUS TOUCH...

Although a new author, Dr Stephen Kronworth, a local Ophthalmologist and also a member of the NYS FOP Surgeons Lodge, has joined the ranks of Patterson, Baldacci and Cussler [to name a few].
LOVER BOY will keep you on the edge of your seat with a plot that has more turns than the road up to Pike's Peak. The characters are all alive. You will love some, hate some, but understand them all. You travel along familiar streets in Long Island as well as in Boca Raton. You visualize the entire story as it unfolds...a quick easy read...a murder mystery with humor, culture and lots of surprises... $11.99 from Amazon
JERRY ENTE, MD
Entedoc@aol.com

Thanks Doc. This would make a nice Holiday present for someone.

November 15, 2020 LETTER FROM DEA TO PELHAM SCHOOL DISTRICT
From Lou Hollander keystonecop1@verizon.net as received from Bob Valentino rvalent558@aol.com
Please see this LETTER from DEA President Paul DiGiacomo to the Pelham School District regarding students forbidden to wear commemorative sweatshirts in memory of murdered Transit Police Det. George Caccavale.

November 3, 2020 THANK YOU LETTER FROM NYPD DEA TO THE VOLUNTEERS
Last week, our 1st VP, Bobby Valentino, rece3ived a call from Paul DiGiacomo, Jr, Pesident of the NYPD DEA, asking if any members would be willing to volunteer to hand out pamphlets in suppport of the police. Bob was able to secure positive responses from several members and friends for NYC, Nassau and Suffolk counties. The day was agreed upon for this past Monday, November 2nd. At the Nassau County locations, several showed up, amongst them, Bobby Valentino, Vinnie Servedio, Tony Lomanto, Fred Ametrano and Bill Vitelli and a few others from the bowling league. Unfortunately, after wating and seeing no one around, a phone call was made and it was discovered that the actual date was for today, November 3rd. Bobby thanked us all and forwarded this information to Paul DiGiacomo who then sent this letter to us: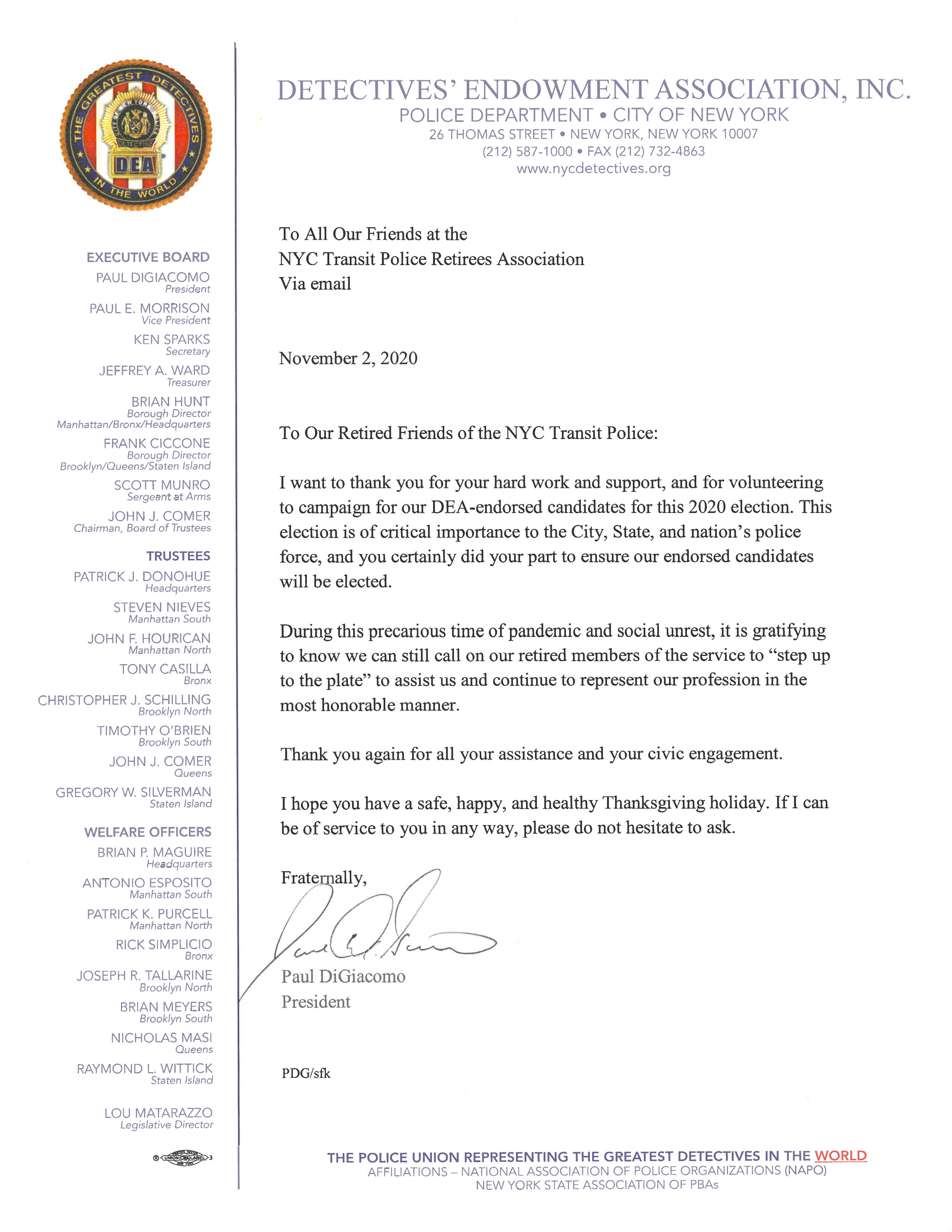 We do what we can to help our fellow brothers and sisters in Blue, Paul.

October 23. 2020 FOR RETIREES WITH NYPD PISTOL PERMITS
From Alan Berkowitz berky4@aol.com
Got The Below From Verrazano 10-13 Member Retired Chief Ray Diaz And Forwarding For Your Information.

The CEA has received several inquiries regarding NYPD issued pistol permits for retirees.

The concern of retirees with NYPD issued pistol permits is having licenses expiring. The mayor implemented an executive order in May of this year (2020), that all pistol licenses will remain active even if they have expired. That order is still in effect as well as the state law, as long as the licensee submitted renewal application before it has expired. The license will remain active until the renewal investigation is completed by the assigned investigator. In addition, the licensees will receive an email automatically in this regard.

Please check the website for more detailed information and check for updates: https://licensing.nypdonline.org/app-instruction/

Stay safe & healthy.

Ada L. Resnick
Office Manager
Captains Endowment Association
40 Peck Slip, New York, NY 10038
Tel # 212-791-8292
Fax # 866-226-8330

October 12, 2020 NEWS ITEM FROM OUR HONORARY POLICE SURGEON
We received this bit of information from the Association's Honorary Police Surgeon Jerry Ente, MD
There is a group calling themselves The Boogaloo Movement. One of their aims is kill police and they are anti-government.
This is a secret group. Type Boogaloo Movement in Google search for more information on this group.
I hope I am not overstepping, but your guys [our guys] need to know.

Fraternally,
JERRY
Entedoc@aol.com
Thanks, Doc.

October 6, 2020 NYC HEALTH BENEFITS OFFICES ARE UP AND RUNNING
From Alan Berkowitz berky4@aol.com
THE NYC OFFICE OF LABOR RELATIONS HAS RE-OPENED
If you have not already submitted your Medicare Part B Differential Request Form or your IRMAA Reimbursement Application, you can do so now. You can access the forms from the below links:
Medicare Part B 2019 Reimbursement Differential Request Form
IRMAA 2019 Reimbursement Application.

Health Benefits Program staff will also be processing 2019 IRMAA forms as the Medicare Part B 2019 payment was issued in April 2020.

September 26, 2020 INFORMATION FOR RETIREES LIVING IN NYC WITH PISTOL PERMITS
From Chip Hayes chip1440@lawyer.com
This is for retirees who still reside in NY City only.
We have recieved several emals and calls from retirees who still reside in NY City regarding the NY City Pistol licence confidentiality request form (called the Foil exemption form, a copy is attached). The NYPD computerized the Pistol Licence system in 2017. Everything is scanned and then submitted on line. When you renew online you should submit the attached FOIL exemption form that, as a retired Police Officer, keeps your information from being released on a freedom of information request. Apparently some members were not asked to submit the form when they renewed and are being contscted to now submit the form.

One member called the Pistol Licence section and provides the following information:
Any retiree with a NYC pistol license is now required to resubmit the "confidentiality request form" which keeps your information from going public. I did not receive the email some received advising we need to resubmit this form but I learned of it from another MOS.
Therefore I am sending this along in case others have not received it either. I called pistol license and the courteous civilian walked me through it.
Just go to the link https://licensing.nypdonline.org/ and click "sign in", then boxes will appear. One says "CONFIDENTIALLY REQUEST FORM" (its spelled that way) click on that box then a screen with your info will come up and just check off the first option "retired nypd" , then type RETIRED MOS in the white box and print name on bottom. Hit submit.

It was obvious from the confusion last year that there were going to be continued problems with this online email process when they started.
Now we see the problems continue. What happens if you do not receive the emailed request from them and do not submit the form again? Who knows? I have no other information as to why the request again. Any problems I would suggest calling pistol license, 646 610 5560 or 646 610 5154
Remember this is for NYC pistol licenses only.
Good Luck,
Retired Lieutenant's Association NYPD
516-354-1843
RLAnypd@gmail.com
Click HERE for the FOIL EXEMPTION FORM.


September 10, 2020 MESSAGE FROM PRESIDENT LANNING
Fellow retirees,

There's been a dark cloud of misinformation and political bias propelled by the news media that's been attempting to fade the Blue Line, our first line of defense against criminality.
We are all well aware and attuned to what crosses our TV screens each evening. There is no moral sense in what we see beyond lawful protests. However, what we don't see is our garrulous elected officials standing out as leaders to accept their lawful responsibilities to lead and seek peaceful solutions.
At this time, what can be done? I believe our first duty would be to support our men and women in blue. Second, would be to call out our state representatives to accept their accountability to the people they represent as it's the state's legislature that passes our laws and criminal procedures, not the police departments. Third, and foremost, is that defunding police departments is not an option we favor.
Seek out your state assemblyman / woman and senator on the internet. Contact them on the phone or in writing and express your voice in letting them know what you support.
Fraternally, your President
Mike

September 3, 2020 TRANSIT ROCKS AGAIN !!
From Lou Hollander keystonecop1@verizon.net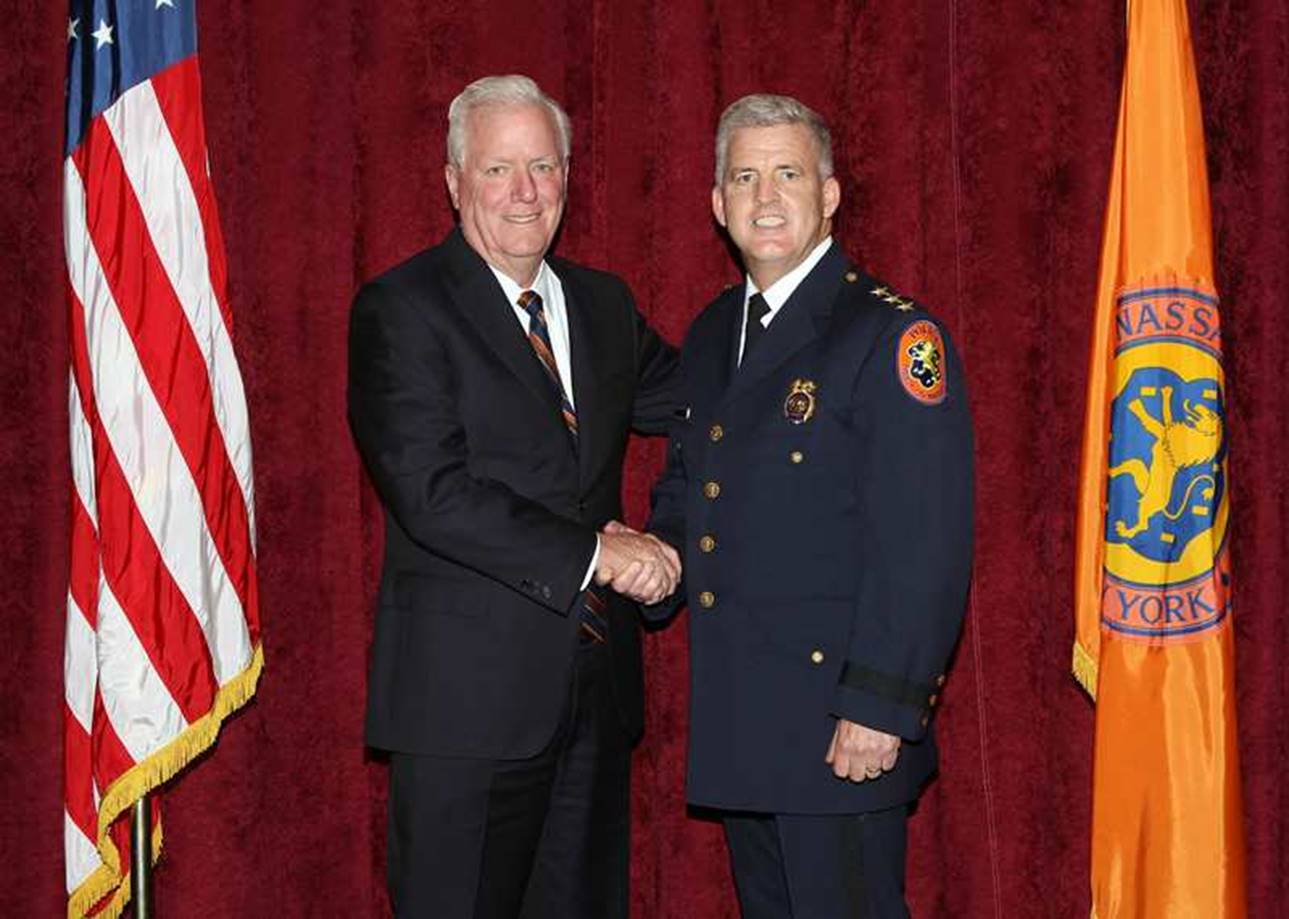 Bobby Ganley and Neil Delargy went to the Transit Police Academy together in 1982 and worked together in TPF, District 4. Bobby tells me Neil was a great guy and left for Nassau PD in '86 or '87. This photo was taken at Neil's "walkout". He left as Chief of Detectives. "Congratulations and lots of luck, Neil"
Way to go for both of these guys! All the best in your retirement, Neil.

July 29, 2020 INFORMATION FOR ID CARD RENEWALS FOR OUT OF STATE AND NY AREA TRANSIT RETIREES
Our many thanks to PO Bazile for sending us this information on renewing your Transit ID card that is expired or nearing expiration.
For the retirees that live out of state, they can email a copy of their drivers license and id card and in the body of the email they can put their name, address and a phone number where they can be reached. We run a background check to make sure no one is wanted (you'd be surprised).
Also they need to attach a digital photo of themselves from the waist up in front of a neutral colored wall (please no hats or sunglasses).
We need a digital photo, not a photo of a photo, to put on a new id card that we mail certified.
Please tell your members they can call the Personnel Unit at 1-718-610-4660 and we will be more than happy to walk them thru the process.
UPDATE At this time, renewals will also be accepted from members living in NY. Please follow the guidelines above.

Be well and keep collecting those retirement checks.
POs Frank Pena and Willie Miranda or TBHQPersonnel@nypd.org

New York City Police Department
Transit Bureau Personnel Unit
130 Livingston Street, 3rd Floor
Brooklyn NY 11201
718-610-4660
718-610-4555 Fax

July 25, 2020 HONORARY MEMBER RET. CHIEF JOE FOX TALKS TO MEMBERS AT THE 84 PCT.
From Alan Berkowitz berky4@aol.com & Lou Hollander keystonecop1@verizon.net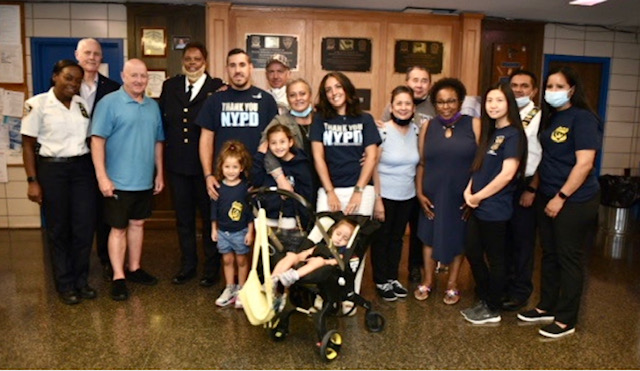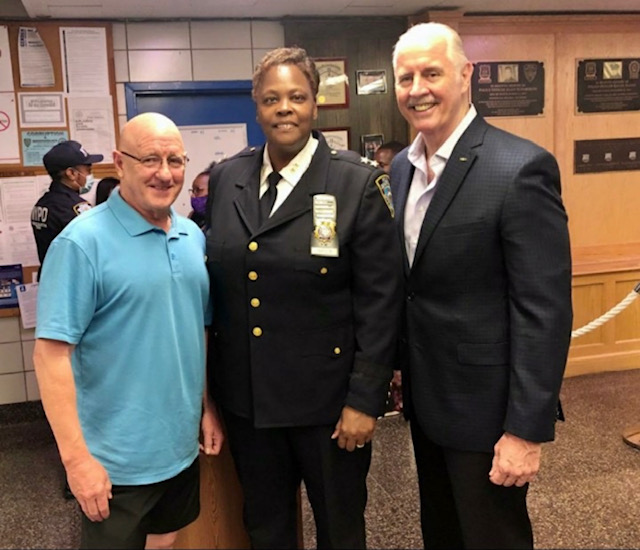 Great job Joe! Keep it going. The cops today need this show of support.
On Friday, July 24, 2020, 01:58:40 PM EDT, Joseph Fox jfox81@josephfoxalliance.com wrote:

Another purposeful day, with the great cops of the 84 Pct! Thank you "Thank You NYPD," for all you have done. It is my honor to join you during these visits. Thank you newly promoted Brooklyn North Chief, Judith Harrison. Honored to continue to witness your growth as a great leader. Thank you Adeel Rana, CO 84, first Muslim American NYPD Precinct Commanding Officer. I also continue to enjoy your growth as a great leader. Thank you Bob Boyce, retired chief of detectives. I cherish our continued friendship, but I must confess, I wasn't happy that you made me look bad yesterday, you in such a sharp suit and me in shorts and Oofos shoes. ????????.
And most especially, thank you to those members of the "Royalty of Policing," the family members of our heroes who made the ultimate sacrifice, who joined us yesterday: 84 Precinct's own Sanny Liu (husband Wenjian Liu and Rafeal Ramos, 12/20/14), Diane Holland (husband Richard, 3/23/12), Tatyana and Leonid Timoshenko (Son Russel 7/14/07) and Cathy and Gil Lee (Son Kevin 1/27/06). When each of them addressed us you could've heard a pin drop. And Cathy Lee, said when she spoke, "When I look at you I think of my son Kevin and I think, you are my children now." Tears!
The Retirees Association is proud to have Former Transit Bureau Chief Joseph Fox as an Honorary Member of this organization. Well done, Chief !!

July 5, 2020 INTERESTING COMMENTS FROM RABBI BERKOWITZ

Crisis Prevention
Throughout mankind's history many conflicts, internal and external, were caused by not knowing what grievance, real or unreal, the opposition had. That was partially due to the lack of the current social media available to all.
We, the people of the United States, are the beneficiary of a unique nation. A representative and democratic government that fought against tyranny, autocratic, and repressive rule. As the nation emerged from the 13 Colonies and became the United States of America, its Constitution was based upon the ideal that all men are created equal. A major difficulty of the emerging nation was the ability to unify the diversified members of our society in promoting the idea of equality. But it has been a work-in-progress till this very day.
This nation became the dream of people from all over the world who wanted to be blessed with the freedoms and opportunities available. But as the diverse population grew, it was obvious that discrimination, socially, spiritually, and economically, had to be recognized and DEALT WITH RESPONSIBILITY BY OUR ELECTED OFFICIALS.
Our elected representatives have the responsibility to bring to the floor any potential issue that arises and find solutions to prevent negative results from ignoring citizen's concerns. Protecting life, property, and treating people equally under the law, are the fundamental tenets of a democratic society. When blood shed occurs, taxpayers' hard working money is misspent, then there is a moral reckoning for whoever takes the oath of office in fulfilling one's duties.
This must be done for each concern a citizen has and propose an agreeable resolution.
Discourse and verbal disagreements are a reality in life. However, the sanctity of life is paramount. This must be the conscience of all of our representatives, and not lose sight of our citizens who sacrificed their lives so that each one of us can enjoy the liberties and beauty of this great nation.
G-d bless the United States of America in continuing to bring so much hope for all.
With blessings,
Rabbi Tzvi Berkowitz
Ret. Chief Chaplain
New York City Transit Police Department
MTAPD
keshershelkayama@gmail.com

July 5, 2020 FREDDIE MACK'S NEW HOME
From Lou Hollander keystonecop1@verizon.net
Yesterday (July 2nd) Freddy, with the help of his daughter Debbi and son Freddy, moved him into a new assisted living facility. Freddy finally came around and thought it was the best for him as he has been falling a few times and was not steady on his feet. Freddy has been alone, except for his 2 dogs, since his wife Susan passed about 2 years ago. He misses her terribly. All he had was his dogs which I think kept him going. Unfortunately, he was unable to bring the dogs with him, but he got some solace that his son who lives in KY will be caring for them. One good thing is that he is close to his many friends. He still has his car and can drive, and we can see him often. For me this was very sad to see him leave a home where he has had many happy years. Here are some photos of his apartment. I spoke with him this morning and he told me all the staff seemed very nice and accommodating. He also said for the 1st time in a long time he slept through the night. You can send "Good Luck" wishes to Freddy at det1013@verizon.net or call him on his cell at 727-247-2526. I am sure he will be thrilled to hear from you.
I spoke to Freddie today and he is doing fine. He is very happy and comfortable that he took the steps to move into this facility. We wished him well in his new home. - Tony

July 5, 2020 UPDATED PROCEDURE FOR RENEWING T.A. PASSES
From Lou Hollander keystonecop1@verizon.net and John Kostick jwkos@aol.com
I have been informed by a representative, Ms Baran that issues MTA passes, that in about 2 weeks letters will be sent out to people eligible to renew. They will sign the form mailed to them and mail it back with the old pass and a new pass will be mailed to them. I am assuming that this is just while the pandemic is still active.

April 16, 2020 SHIELDS STOLEN FROM THE LATE DET. GEORGE CACCAVALE'S DAUGHTER
This was sent out by Lou Hollander keystonecop1@verizon.net

The daughter of a slain NYTPD detective is pleading for the return of a replica of her father's badge swiped from her car outside her Westchester County home.

The small badge was among three stolen from her vehicle by crooks who broke into at least a dozen others in her Pelham Manor neighborhood on April 9, Carla Caccavale told the Daily News.
"The one that was my father's is an exact mini replica of my dad's detective shield in a small leather case," she said during a phone interview.
She discovered the badge was stolen Friday morning. It was taken, she said, along with two challenge coins that bear the names of and are designed to look like the badges of Commissioner Dermot Shea and former Commissioner James O'Neill.
The challenge coins were gifts to her two sons from the commissioners. The replica of her father's badge she has had for years.
Caccavale, who has three cousins in the NYPD and a fourth cousin who is retired from the force, explained she kept the three replicas in her car in case of emergency. The vehicle was parked in her circular driveway just outside her house. Now all she really wants is to get them back.
"The fact that these badges are out there and in the hands of someone who is clearly beneath the law makes me unable to sleep at night and sick to my stomach," she said.
Her father, Transit detective George Caccavale, was gunned down in 1976 when she was just 20 days old. The 11-year veteran of the NYPD was shot three times outside a check cashing store on Van Dam St. in Long Island City, the Daily News reported at the time. He was off duty and working security for the business. That day he was carrying a bag with $30,000 in cash into the store when he was set upon by three assailants and killed.
There are several memorials that bear the 33-year-old's name, including the wall at One Police Plaza. An NYPD police dog who officially joined the force in October is also named after Caccavale.
Caccavale has another, full-sized replica of her father's badge, along with his original hat. Her brother has his actual badge. She told The News that O'Neill has already stepped forward to help get her a replacement "coin" modeled after his badge, but the replica she kept in her car of her father's detective shield remains important to her. And her hope is that someone will return the stolen replicas.
"I felt really bad, being so upset about this in light of everything going on." she said. "But for us, it is a really big deal."


April 14, 2020 INFORMATION FOR MEMBERS WITH AETNA MEDICARE ADVANTAGE & THE COVID VIRUS
Information sent by Alan Berkowitz berky4@aol.com
Check out the latest information from Aetna HERE Please check the information below in the April 1st posting also.

April 4, 2020 INTERESTING COMMENT FROM OUR SURGEON, DOC ENTE
We received this from our Honorary Surgeon, Doc Ente entedoc@aol.com who states "I did not write it ...someone sent it to me and I am sending it to you to go into the newsletter. I think it is perfect for the members to read and enjoy...let me know what you think."
I TALKED TO A MAN TODAY
I talked with a man today, a 90+ year old man. I asked him if there was anything I can get him while this Coronavirus scare was gripping America.
He simply smiled, looked away and said:

"Let me tell you what I need! I need to believe, at some point, this country my generation fought for... I need to believe this nation we handed safely to our children and their children...

I need to know this generation will quit being a bunch of sissies...that they respect what they've been given...that they've earned what others sacrificed for."

I wasn't sure where the conversation was going or if it was going anywhere at all. So, I sat there, quietly observing.

"You know, I was a little boy during WWII. Those were scary days. We didn't know if we were going to be speaking English, German or Japanese at the end of the war. There was no certainty, no guarantees like Americans enjoy today.

And no home went without sacrifice or loss. Every house, up and down every street, had someone in harm's way. Maybe their Daddy was a soldier, maybe their son was a sailor, maybe it was an uncle. Sometimes it was the whole damn family...fathers, sons, uncles...

Having someone, you love, sent off to war...it wasn't less frightening than it is today. It was scary as Hell. If anything, it was more frightening. We didn't have battle front news. We didn't have email or cellphones. You sent them away and you hoped...you prayed. You may not hear from them for months, if ever. Sometimes a mother was getting her son's letters the same day Dad was comforting her over their child's death.
And we sacrificed. You couldn't buy things. Everything was rationed. You were only allowed so much milk per month, only so much bread, toilet paper. EVERYTHING was restricted for the war effort. And what you weren't using, what you didn't need, things you threw away, they were saved and sorted for the war effort. My generation was the original recycling movement in America.

And we had viruses back then...serious viruses. Things like polio, measles, and such. It was nothing to walk to school and pass a house or two that was quarantined. We didn't shut down our schools. We didn't shut down our cities. We carried on, without masks, without hand sanitizer. And do you know what? We persevered. We overcame. We didn't attack our President, we came together. We rallied around the flag for the war. Thick or thin, we were in it to win. And we would lose more boys in an hour of combat than we lose in entire wars today."
He slowly looked away again. Maybe I saw a small tear in the corner of his eye. Then he continued:

"Today's kids don't know sacrifice. They think a sacrifice is not having coverage on their phone while they freely drive across the country. Today's kids are selfish and spoiled. In my generation, we looked out for our elders. We helped out with single moms who's husbands were either at war or dead from war. Today's kids rush the store, buying everything they can...no concern for anyone but themselves. It's shameful the way Americans behave these days. None of them deserve the sacrifices their granddads made.

So, no I don't need anything. I appreciate your offer but, I know I've been through worse things than this virus. But maybe I should be asking you, what can I do to help you? Do you have enough pop to get through this, enough steak? Will you be able to survive with 113 channels on your tv?"
I smiled, fighting back a tear of my own...now humbled by a man in his 90's. All I could do was thank him for the history lesson, leave my number for emergency and leave with my ego firmly tucked in my rear.

I talked to a man today. A real man. An American man from an era long gone and forgotten. We will never understand the sacrifices. We will never fully earn their sacrifices. But we should work harder to learn about them..learn from them...to respect them.


April 1, 2020 IMPORTANT INFORMATION FOR RETIREES IN THE AETNA MEDICARE PROGRAM
From Alan Berkowitz berky4@aol.com

To all City retirees who are enrolled in the Aetna Medicare Program! Check out this recent announcement from Aetna.p you stay protected during the coronavirus, or COVID-19, outbreak.

Here are a few actions we're taking for our Medicare members:

• Copays

for coronavirus-related testing and doctor visits are being waived.

•We're offering a $0 copay

for telemedicine visits with your doctor.

• You won't have to pay a fee

for home delivery of your prescription medications from CVS Pharmacy® stores.

• You can get your refill early,

if your Aetna Medicare plan has Part D drug coverage. And, for many of the medications we cover, you can get a 90-day supply.

• You'll have 24/7 access

to the Resources For Living® program to help find services and resources in the community. Or, just talk with someone for emotional support.

Simply call us at

1-866-370-4842 (TTY: 711).

• You can speak with a nurse anytime day or night

by calling the Aetna Nurse Medical Line. You'll find the telephone number on the back of your medical ID Card, or call

1-800-556-1555 (TTY: 711)

.

Our main goal is to help keep you safe, healthy and informed during this time of uncertainty. And just remember, we're with you every step of the way.

March 7, 2020 REPORT OF MARCH MEMBERSHIP MEETING

The 1st meeting of 2020 was called to order by President Mike Lanning at 7:15 pm with the Pledge of Allegiance to the Flag and was followed by a moment of silence to remember the 20 members who have died since the last meeting in December, and to remember all those on the Sick List and for our servicemen and women and fellow officers serving in harm's way.

Treasurer Tony Lomanto gave a report on the financials. He reported the Association is doing well and he mentioned that there was a very large number of members who sent in donations of all amounts. They all are very much appreciated for their generosity and their names will appear in the next issue. With the new order of the challenge coins received, all who made a donation and requested a coin have been sent theirs. He also spoke of the 2019 Medicare reimbursements from the City if NY scheduled for April. For further information, please check the Health & Welfare page HERE. We thank Alan Berkowitz and Lou Hollander for their work in keeping us informed.

Tom Greer spoke of the July 28th Mets - Yankee game at Citifield. So far 80 tickets have been sold. If interested, tickets are $118.00 for very good seats. You can send in your check and request to Tom at:
508 Harbor Rd
Cold Spring Harbor NY 11724.
516-419-6146. 631-902-8911.

Vinnie Servedio spoke about the upcoming Romeo & Juliet Luncheon at Stella's Restaurant in Floral Park on Wednesday, March 25th. $85.00 per couple and $45 for singles. You definitely will have a great time. For further information, see the Meetings & Events page

It was reported that the Mass to honor the 50h Anniversary of the death of Ptl. Michael Melchiona was well attended by the Police Commissioner Shea, Chief of the Department Monahan, Transit Bureau Chief PBA President Pat Lynch and many police officers. It was a very warm and moving ceremony and was followed by a luncheon offered by the PBA.
President Lanning told the members that there will be three afternoon meetings this year: May 5th at Verdi's; Sunday, October 4th at the FOP and the Christmas Party will be at 1:00 pm at Antun's. These daytime meetings are more favorable for those who have trouble driving at night and, as was shown at lasat year's meeting at Verdi's, we expect a large number of members attending.

John Giangrasso was thanked for his service on the board last year and Deo Fasolino was welcomed aboard. Deo gave a talk on how we can get more members for the organization. Many times, we hear "Transit Forever," but if they want to help this happen, they should be joining this organization.
Vinnie DiMao talked about how to get ID cards through the mail, especially for those living out of state. The main drawback to this is the fact that it is all done digitally through the computer. Please check out the information on the "Keeping in Touch" page on who to contact. P.O. Bazile is very busy and be aware it will take time before he can get back to you.
Tony Piazza gave a report on the status of the VSF. A meeting is to take place with NYS Sen. Todd Kaminsky of Long Island. This photo was taken at the meeting where Sen. Kaminsky stated he will sign on to the bill being submitted by Sen. Savino.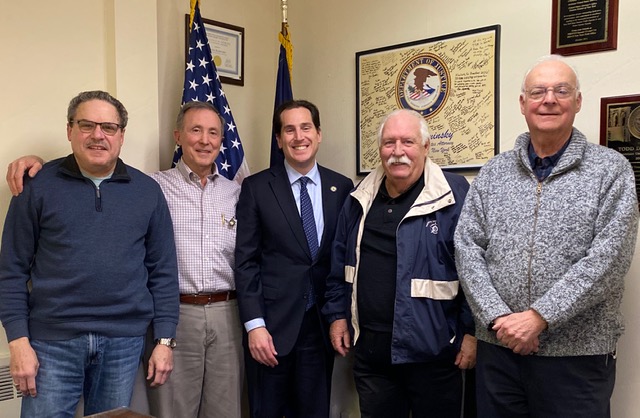 L-R: Tony Lomanto, Leg. Director Tony Piazza, Sen. Todd Kaminsky, Pres. Lanning, 2nd VP Vinnie DiMao
The meeting ended at 8:20 pm.
Our thanks to Rec. Sect'y Bob Forrester and his able assistant (and wife) Fran.

March 5, 2020 VIDEO AVAILABLE FOR PTL. MICHAEL MELCHIONA MEMORIAL MASS
Henry Melchiona contacted us to inform all our members and fellow officers that a professional video was made of the 50th Anniversary Memorial Mass for Hank's brother, Ptl. Michael Melchiona, celebrated this past February 28th.
The video is of excellent quality. Lou Hollander converted it to a YouTube Video which can be viewed on your Smart TV if you have the YouTube app. If you view it on your PC or tablet you can view it in full screen. I hope you enjoyed watching the video as much as I did.

Click here https://www.youtube.com/watch?v=mIaGFK3T78s or paste link into your web browser. It is a very moving and heartwarming video. - Tony
Here are some photos from the Mass: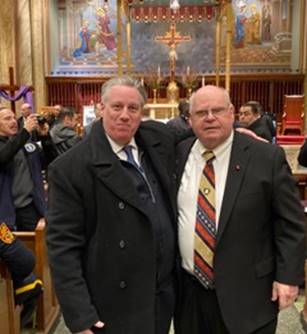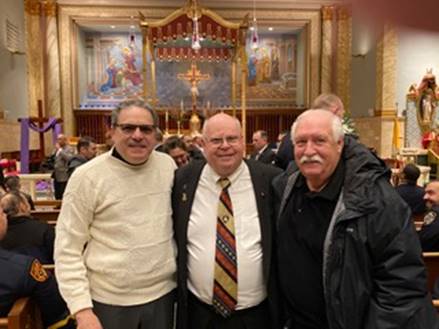 John Moakley & Henry Melchiona Tony Lomanto, Henry Melchiona & Mike Lanning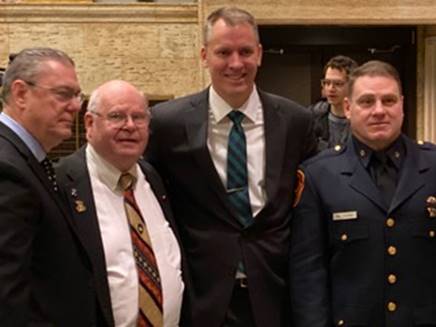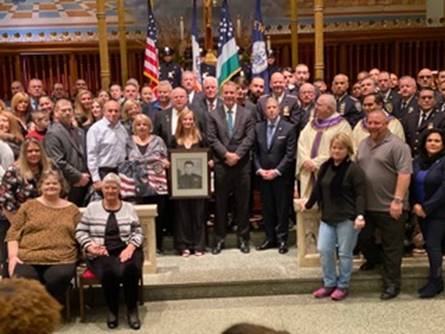 ?, Henry Melchiona, NYPD Comm. Shea, Henry's son Melchiona family & friends gather at end of Mass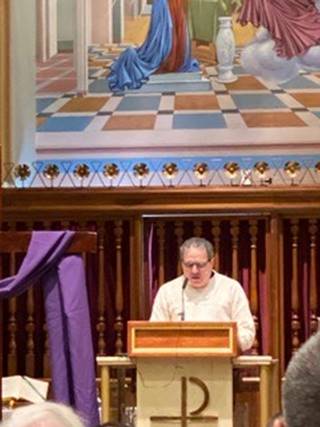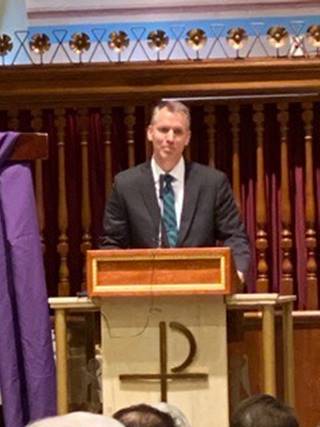 Tony Lomanto doing a Reading during the Mass Comm. Shea speaking to the congregation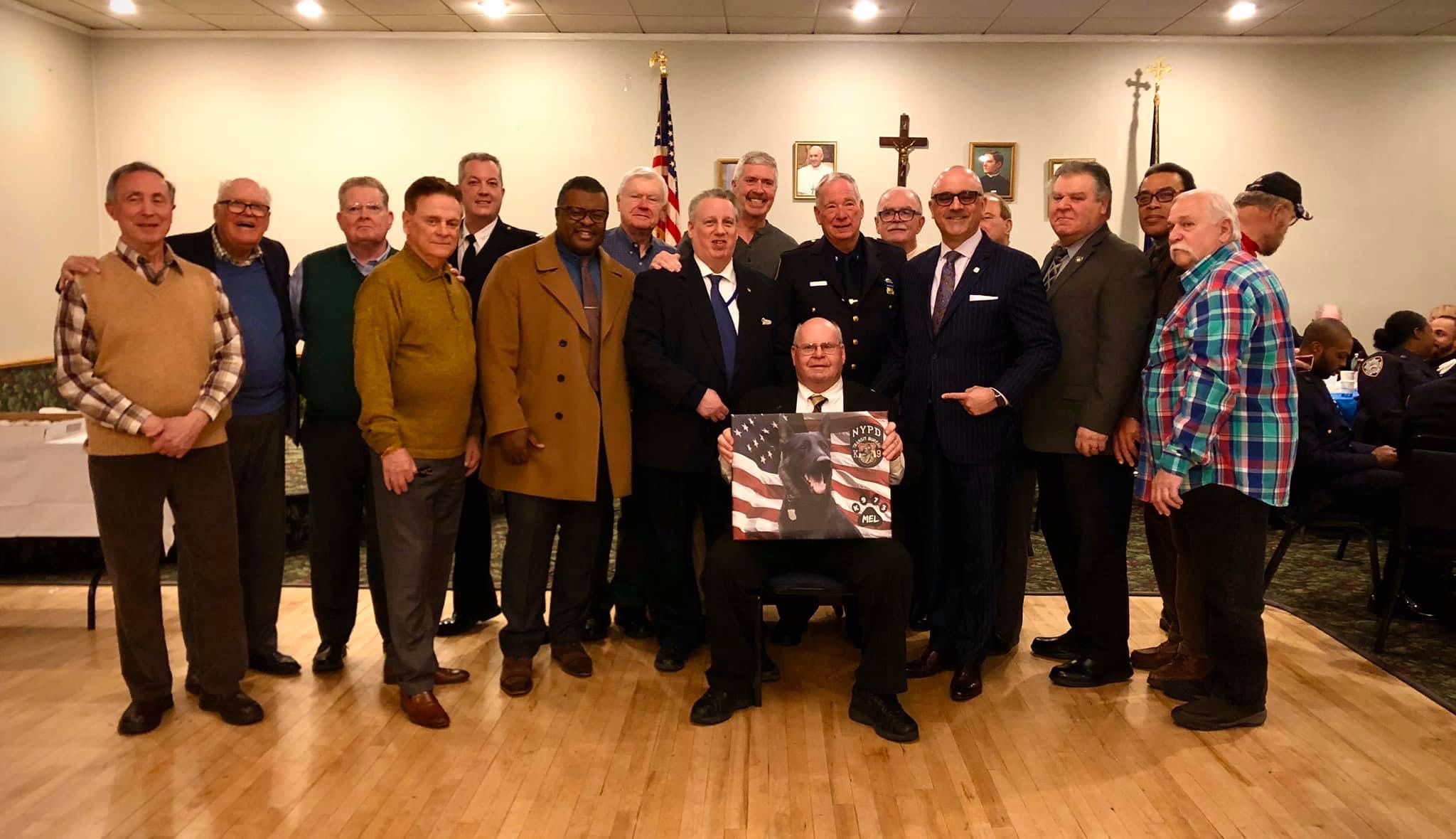 Hank and fellow officers & retirees at the luncheon with a photo of the K9 dog named "Mel" after Mike

February 9, 2020 TAX SAVINGS FOR FORMER MILITARY MEMBERS LIVING IN NEW JERSEY
For all those fellow Transit officers who live in NJ and were in the military, a new law went into effect in 2020.
Under a new law signed by Governor Phil Murphy, the Veteran Income Tax Exemption is doubling to $6,000 for Tax Year 2019. This exemption is in addition to the $1,000 personal exemption to which each taxpayer is entitled, and any additional exemption for which the veteran is eligible. For Tax Years 2017 and 2018, the exemption amount was $3,000.
Their website is www.st.nj.us/treasury/taxation/military/vetexemption.shtml

November 11, 2019 REPORT OF NOVEMBER MEMBERSHIP MEETING
Our thanks to Recording secretary Bob Forrester and his able assistant (and wife) Fran for this report.
Minutes of NYCRTPOA November 7, 2019
Meeting called to order by President Mike Lanning at 7:15 pm. Mike led the membership in the Pledge of Allegiance.
Tony Lomanto reported that we lost seven members since the last meeting. A moment of silence was observed.
There will be a Defensive Driving Course at the FOP on Saturday, November 19, 2019 at a cost of $45.00. If interested call Joe McGarry to register.
Our annual Christmas Party will be held at Antun's in Queens Village on Wednesday, December 4th at 6:00 PM. The charge is $25 for paid members and $35 for all others.
Motion was made and carried to waive the 2nd nominations elections. No one present put their name in for a nomination. The Board will remain the same with one change. Deo Fasolino accepted the position of Executive Secretary as John Giangrasso is stepping down. We thanked John and gave him a well deserved round of applause.
Tommy Greer reported that he has 200 tickets available for the Yankees Game on July 28, 2020. The price is $118 per ticket. Please e-mail your request to him at hpb2270@optonline.net .
Tony Lomanto gave the financial report. Nine members still have not paid their dues for 2019. The next dues mailing will be their last if they do not send in the dues.
Dues notices for 2020 will be sent out in January. Donations will be accepted with the dues and we ask that you indicate if you want a challenge coin gift as our thanks. To update our files, please include your current e-mail address.
The Medicare Part 'B' that was incorrectly paid in April will have the balance in March 2020.
Tony Piazza gave an update on the VSF Bill. Two Senators - Sen's. Diane Savino and Andrew Gounardes - have said they will introduce the bills for us.
Our May meeting next year will be a luncheon held at Verdi's and a Brunch meeting will be held in October at the NYS FOP building.
Meeting ended at 8:15 pm.

November 1, 2019 INFORMATION AND REMEMBRANCES
Here are a few photos from the NYPD Memorial Mass for Transit Police held on October 23rd.
From Ret. Transit Chief Fox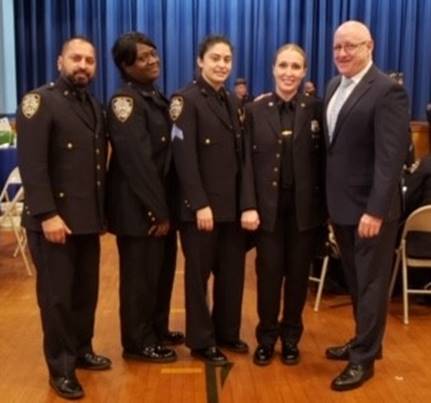 How we remember those who passed before us, in a great way defines us as individuals, families and a culture. So, it was my solemn pleasure to watch a true culture of caring in action this morning, at the NYPD Transit Bureau Memorial Mass. Family members of heroes who sacrificed their lives for us made today truly special. For example, on June 19, 1980, Joe Keegan was killed arresting a fair beater in Manhattan. In fact, his nephew Brendan Mallon and niece Courtney Mallon read the names of our fallen during the service this morning (see photo at alter). I wonder if Joe Keegan could've ever imagined that! But then again, that's what legacy and impact is all about-it manifests itself when we're not watching. Have a wonderful and purposeful day everyone, and thank you.
From Association Chaplain Rabbi Berkowitz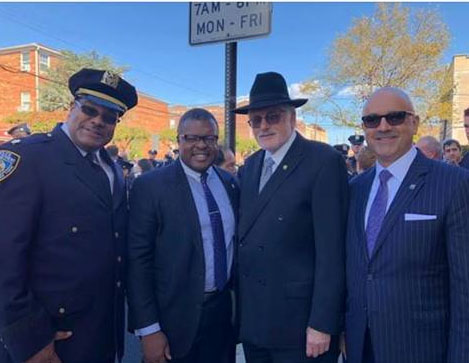 Thank you for your humbling comments. My success was due to the trust and confidence that the entire NYC Transit Police respected my every step and response on a day-to-day basis. As a follow-up, the rest of the MTA Agencies gave me the opportunity to extend this unique role to include them as well. As a testimony to the NYC Transit Police, the Office of the Chaplain is a division of the MTA Work Life Services. Truly a rare and blessed achievement.
Thank you again my entire NYC Transit Police family.

October 24, 2019 NEWS FROM SOUTH FLORIDA

NEWS FROM LOU HOLLANDER
What a surprise Lou Hollander got on Tuesday, when he walked out his kitchen door to the garage to get in his car.
Lou said: "Sitting right next to my wife's car was a baby alligator (maybe 3 ft.) My wife called Florida Wildlife and said they don't respond unless the gator is over 4 feet. They told her the gator is more afraid of us. It eventually ran out of the garage and my wife quickly closed the garage door before is Mama came looking for him.
Lou regrets the loss of several handbags, shoes, wallets and belts, and a good plate of fried alligator.
RECEIVED FROM IRV KEST
Just FYI, In Sept of 2018, I and others that served during the Korean War went to Washington, D.C. on an Honor Flight from Miami Airport. I was honored to have my Grandson from Orlando be my Guardian. It was mandatory for us to be in a wheelchair through out the stops and was wheeled to all the sights. While on the flight home we had mail call and I opened many cards from the family and found out later my Grandson notified everyone to send a card to me for my ride home. No one was more surprised than I. The Mayor of Miami Dade greeted me and so did the Gov. of Fl (who put a gold Fl. seal around my neck.) I was very proud to have been there to support my country. Take care of yourself and stay well. I turn 83 this coming January.
Thank you for your services, Irv, both in the Army and in Transit (D-34) and congratulations on the accolades so justly deserved. A very early Happy Birthday to you.
Irv's email is tpdblue2004@aol.com

October 7, 2019 REPORT OF OCTOBER MEMBERSHIP MEETING
Our thanks to Recording secretary Bob Forrester and his able assistant (and wife) Fran for this report.
Minutes of NYCRTPOA Meeting on Wednesday, October 2, 2019
Meeting called to order at 7:25 PM
President Lanning led the Pledge of Allegiance and thanked 1st VP Bob Valentino for setting up the buffet dinner catered by Verdi's of Westbury..
Treasurer Tony Lomanto reported that we lost six fellow Transit Police officers since our last meeting. A moment of silence was held for them, their families, those on the Sick List, and for our Armed Forces serving in harm's way.
Nominations were held for the Executive Board Officers for the next 2 years. All current Board Members were nominated with the exception of the Executive Secretary position. Deo Fasolino was nominated for that spot as John Giangrasso will be stepping down. We thank John for his services during his term in office. Nominations will again be held at the November meeting.
Tony Lomanto gave the Association's financial report. The Association is in good financial standing. There are still 18 members who have not sent in their dues for 2019 and will be removed from the membership roster. We regret having to do this as numerous communications sent have been unanswered. We reminded the membership of the upcoming Christmas and Holiday Party at Antuns on December 4th. The charge remains at $25 for members and $35 for non-members.
A motion was made and seconded that the Association will send $200 to Daniel Pantaleo who was recently fired by the NYPD.
1st VP Bob Valentino reported that Joe McGarry will be honored for his service in Viet Nam on Saturday, October 19th at the Levittown Town Hall, 201 Levittown Parkway at 11:30 AM. Member Mike Melchiona presented Joe a special lamp decorated with the Marine Corp emblem at the meeting.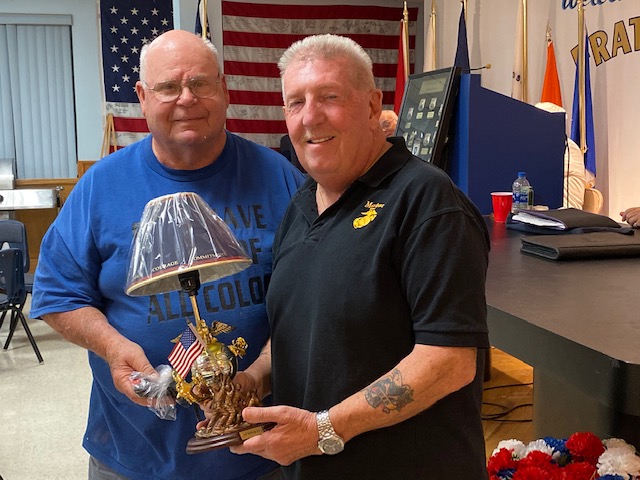 Bob also mentioned that member Emil Stucchio will be performing at Delmonico's Restaurant in Levittown on Friday, October 25th. Dinner at 7:00 PM, and the show will start at 8:00 PM. Price - $60.00 pp.
Legislative Director Tony Piazza gave a report on the status of the 2 bills currently in Albany. Bill #5835 and the COLA Bill. The VSF Bill comes up again on October 24th Nothing new, but we're keeping it on the table.
Joe McGarry reported that Lodge 317 will be conducting a Driver Training Course on Saturday, November 9th at 10:00 AM. The cost is $45 and you will receive a reduction in the cost of your auto insurance premium after completetion and receipt of certificate. You must call Joe first if you wish to attend. His number is 516-314-0155
Old Business – none.
New Business – none.
The next meeting is Wednesday, November 6, 2019.

October 1, 2019 ANOTHER SUCCESSFUL ROMEO & JULIET LUNCHEON
Vinnie Servedio accomplished another successful ROMEO & JULIET luncheon last week at Stella's Restuarant in Floral Park. Many of those attending have been at all the past luncheons and this time, a few new ones, notably Vinnie's son and his wife. One of Vinnie's contest was using a hula hoop. Needless to say, not many participated in fear of possibly needing a knee or hip replacement. His roulette wheel went off well with scratch off ticket prizes being rewarded. Here a some photos taken that day.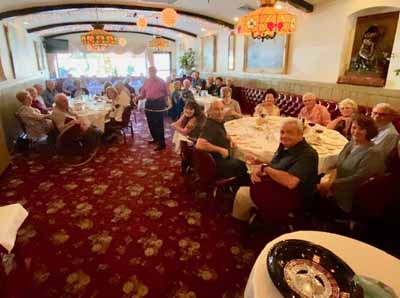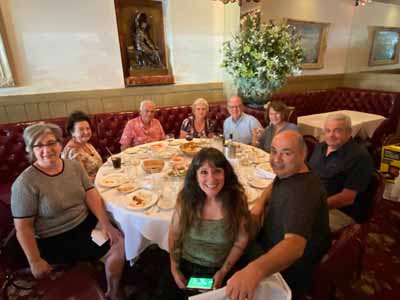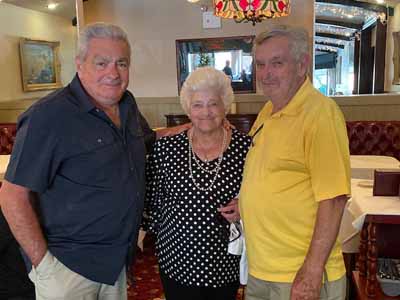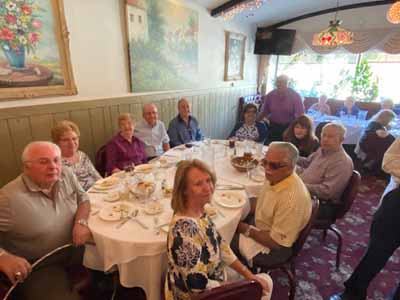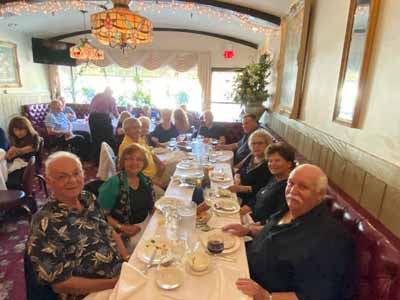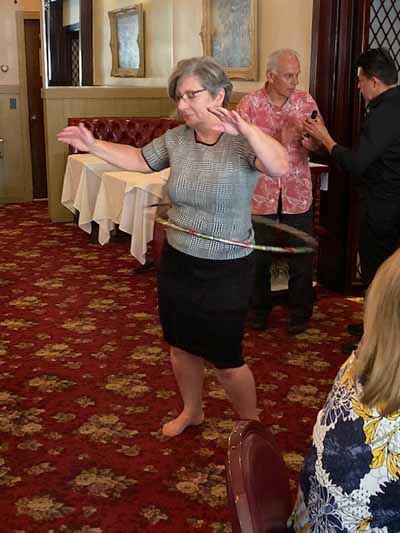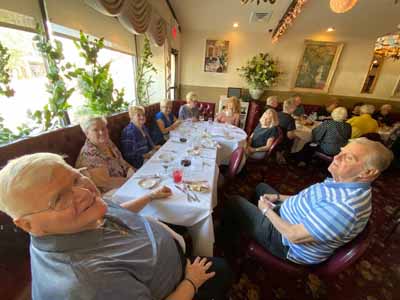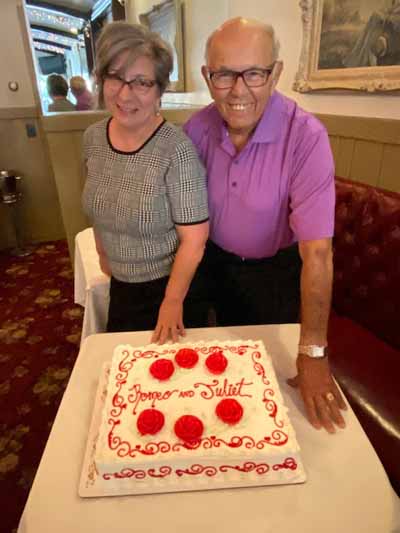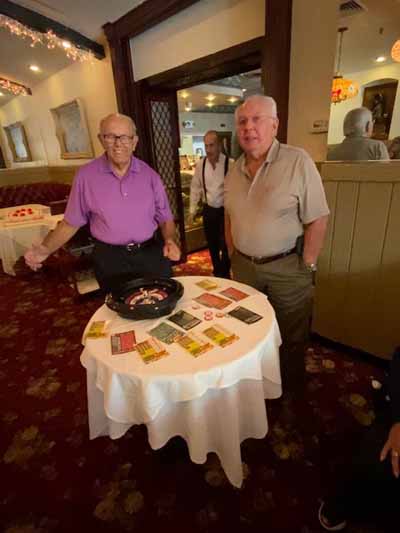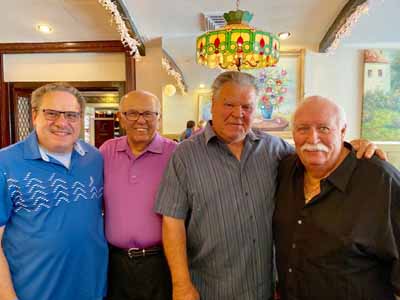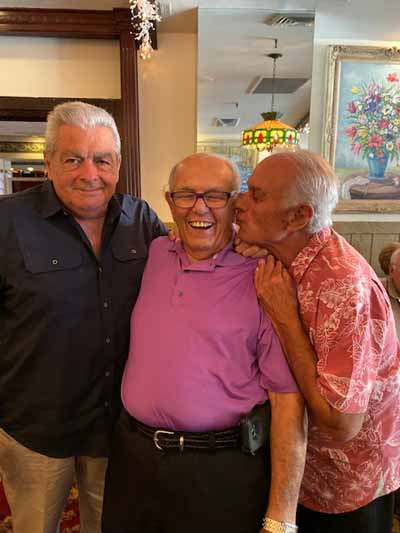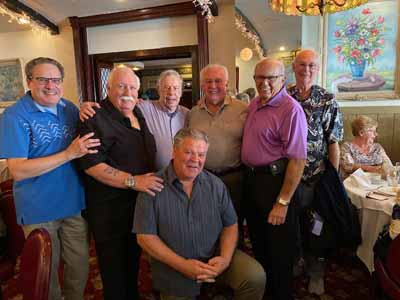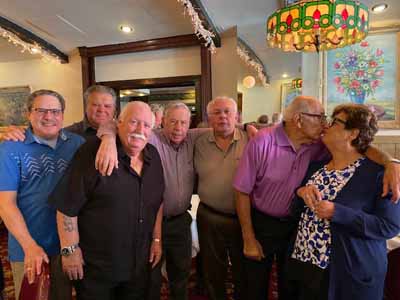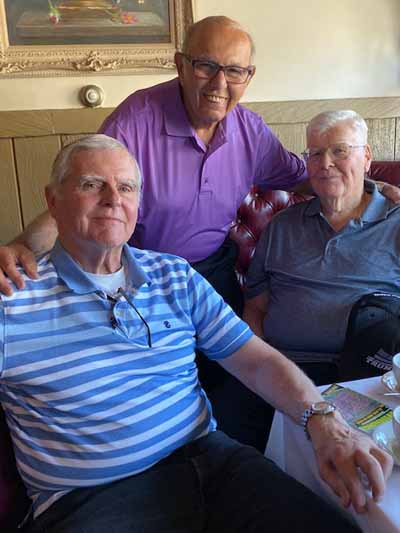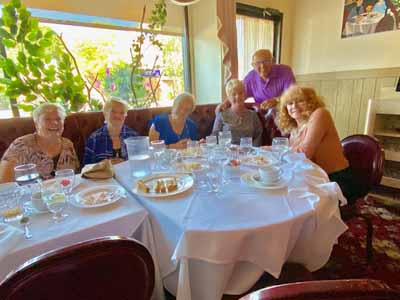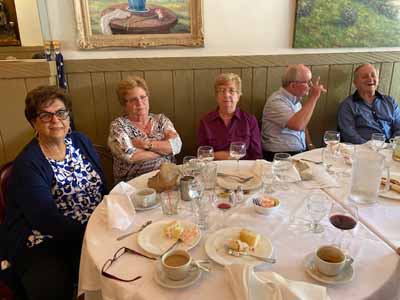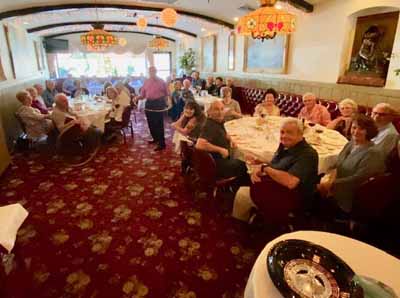 September 22, 2019 NEW LOCATION FOR OFFICE OF LABOR RELATIONS
Thanks to Alan Berkowitz for forwarding this update berky4@aol.com
The Office of Labor Relations (and Health Benefits) has moved to a new location. All the available information can be seen on our
KEEPING IN TOUCH page.

September 7, 2019 REPORT OF THE SEPTEMBER MEMBERSHIP MEETING

Minutes of the Retirees Association Meeting – September 4, 2019
Meeting at the FOP building was called to order by President Mike Lanning at 7:10 pm, followed by the Pledge of Allegiance and a moment of silence for departed members and victims of tragedies. Tony Lomanto reported that we lost 20 members since our last meeting and listed all the names. Our Chaplain's mother passed away. The Association sent an Association Memorial Booklet.
A fund is being established to help retired Capt. Vincent DeMarino and his family through this hard time as he is suffering from a brain tumor. A fundraiser is planned on September 14th from 3:30-6:30 PM at:
Craft Kitchen & Taphouse
44 Stauderman Ave.
Lynbrook, NY
516-341-0547
Treasurer Tony Lomanto gave a report on the financials. The association is doing well, especially from the many donations from our members. He also reported that we have two new members who recently joined. He also mentioned that the nominations for board officers will take place at the October and November meetings so if anyone is interested in running, please attend.
Executive Secretary John Giangrasso spoke about a fund started for Officer Pantaleo by retired NYPD PO Carl Varela and a group called "TOP COPS." Varela is an attorney who represents PBA members. It is called "ESQUIRE." The suggested donation is $10.13 and if you wish to donate, you can make out the check to ESQUIRE and mail it to:

ESQUIRE
PO Box 230186
Brooklyn NY 11223
Joe McGarry talked about the upcoming Pig Roast and Cigar Night to be held on September 14th, 2019 at the FOP Building. There will be pork, beef, salads, etc. and also cigars. The cost is $110.00 per person.
The New York Reunion will again be held at Antun's in Queens Village on Tuesday, November 19, 2019. Advance payment is $60.00 and $70.00 cash at the door.

Vinnie Servedio announced that the Romeo and Juliet Luncheon will be held at Stella's Restaurant on Wednesday, September 25th at 12:30 pm. There will be food, games, prizes and a great time.
Tony Piazza gave an update on the VSF bill and added "We're not giving up." There are only about 400 members left to benefit from this bill. He added that there are two important new bills: Military Vets Supplement and a COLA Bill.
Tom Greer reported that 180 members attended the Mets/Yankees Game this year. A great time was had by all. The next game will be either July 28 or 29, 2020.
There was no old business.
New Business - A Mass is being planned at St. Sebastian's Church in Woodside on February 28, 2020 to mark the 50th Anniversary of Patrolman Melchiona's death. Further details will be posted when they are finalized.
President Lanning spoke about the letter from the Association reflecting our stand on the recent firing of NYPD Officer Daniel Pantaleo by Commissioner O'Neill. Copies of that letter were placed on the tables.

The meeting ended at 8:15 PM following the 50/50 raffle drawing.
The next meeting will be held on Wednesday, October 2, at the FOP Building. We will have a buffet and there will be a food charge of $10 per person to help defray the cost.
Bob Forrester, Recording secretary (with able assistance from his wife, Fran)

August 27, 2019 ASSOCIATION'S RESPONSE TO PANTALEO FIRING
Below is the Association's response to the recent firing of Police Officer Daniel Pantaleo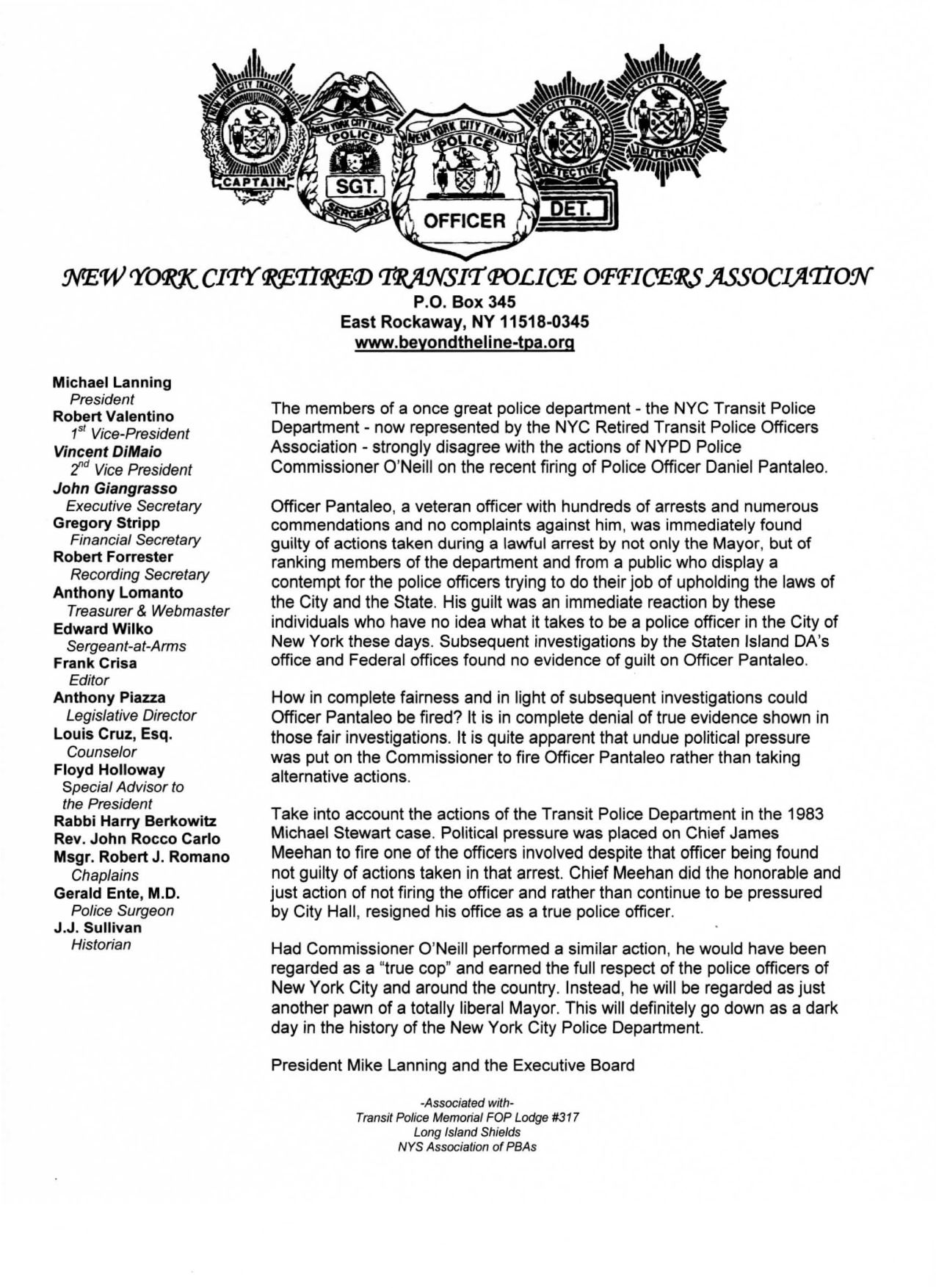 August 21, 2019 DISTURBING NEWS ON THE FIRING OF OFFICER PANTALEO
It has to go down as one of the saddest days in the history of the NY Police Department with the firing of Police Officer Daniel Pantaleo.
Public opinion, the Mayor, and the news media convicted Daniel as soon as the incident happened and that rhetoric continued to the day he was fired. Here was an officer doing his job...an officer with 13 years, 300 arrests and numerous commendations. Was it fair? We think not. Was it fueled by the threat of public disturbances by apparently cop hating individuals and the lack of support from above? We feel it was.
One of our members, Lifetime Member and former Transit PBA President Bill McKechnie, wrote about this disaster and is reproduced here.
I am sitting here reading everything I can get my hands on concerning the termination of PO Pantaleo, as well as watching everything I can on TV and social media, and I am sick. I am so angry that perhaps I should wait to calm down before writing this. However, I feel I know the issue and I am so outraged I want to speak out. First, let me address my brothers and sisters of the former NYC Transit Police Department.
When James O'Neill was appointed Commissioner of the NYPD, the first member of our department to achieve ever such appointment, I was proud, and I wrote the Commissioner saying so. I wanted so much for him to succeed so we could show the talent that we knew existed in our Department. I knew he was going to have a difficult time working for a mayor who is so far to the left, but I hoped he would be able to separate himself from that and lead the NYPD to bigger and better things. Today's events have proven me dead wrong and as I write this, I am truly saddened as to what I have just seen and heard.. What a disappointment! This so-called Commissioner is nothing more than a puppet for a left-wing Mayor. I say this because while he and the mayor say it was solely the commissioner's decision, I ask you to consider what the mayor has been saying on the Presidential campaign stump, "I promise you the Garner family will get justice." What does that statement mean? What message did it deliver to O'Neill? The Garner family already settled a 5.9 Million-dollar lawsuit, so the only justice left was the termination of PO Pantaleo. Under the Law, the only one who could legally deliver on this pledge was not the mayor but Commissioner O'Neill. So, I ask, you how can the mayor have been so confident that the so called "justice" for the Garner family, the termination of PO Pantaleo, be acted upon?
We in Transit lived through a somewhat similar experience in the Michael Stewart case in 1983, coincidentally the first year that O'Neill was on the job. For those who don't know this case, it was a case where an individual was arrested and who it took six cops to take under control, later died. We had six members in our Department indicted not once but twice. Eventually they were acquitted by a jury of their peers. However, that didn't satisfy Mayor Koch and he got the TA to hire a retired Federal Judge to review the case and, in an effort to make an administrative decision. fire the arresting officer.
Considering why he was hired, the decision this judge would reach was an obvious one. The police officer was wrong and should be terminated. What they failed to realize that, as opposed to the NYPD where they can take forever to make an administrative decision to terminate someone, our agency, by law, only had eighteen months to do so. Therefore, we challenged the decision of the judge and won. The Police officer was reinstated and we, the TPBA, sued the TA for over $400,000 to cover our cost in defending our members. More importantly, Chief Jim Meehan , Chief of the Dept. at the time, was directed to fire the PO refused and rather than doing so he resigned. Jim Meehan and I did not see eye to eye too often, but after that he gained my respect and, most importantly, he was able to look himself in the mirror after making his decision. Something I question if Commissioner O'Neill will be able to do.
The mayor in his press conference tonight kept saying that the decision to fire Pantaleo was based on an open, fair, and impartial hearing before a departmental tribunal. If you believe that, I have a bridge to sell you. He also condemned the Feds for failing to move forward on the case saying that the City would no longer wait for the Feds to make a decision delaying the City from taking action. Yeah sure! Wait for that to happen because if and when it does, much of what is used in a Departmental trial would not be able to be used by the Feds should they want to proceed. Secondly, he never mentioned in his public address that the Richmond County Prosecutor presented this case to a Grand Jury. Was that not a fair and impartial presentation of the fact presented to citizens of Staten Island? They found no reason to proceed. Now don't get me wrong; the DA is presenting evidence to see if he can bring a case that can prove something beyond a reasonable doubt, a departmental hearing only has to prove something by a preponderance of evidence. That, notwithstanding, was there a presentation of the fact to a fair and impartial group? I think not. The mayor must have just forgotten that, or maybe it did not fit his agenda to mention it.
I might add neither the Feds nor the Staten Island DA were mentioned by the Police Commissioner. When talking about the Trial Board case that led to the recommendation of termination, let's not forget that there were Departmental experts who testified that in their opinion Pantaleo did not use a prohibited choke hold. There was also medical evidence to contradict that a choke hold caused Eric Garner's death. But let's face it, they had a message from the mayor implicitly, if not explicitly, to find justification to fire this cop. Something else that I found rather ironic was that the trial board's recommendation went first to First Deputy Tucker who was to review and make a recommendation to the Commissioner. His recommendation was termination. Now a lot of people say what the hell were cops out there bothering someone selling "Loosies?" Well unless I am mistaken, the order to go out and stop the selling of "Loosies" came from the First Dep's office. Lastly, let's remember that Pantaleo was not acting alone. No charges have been brought against any other officers and I hope they never are, although I have read that the Garner family will not be happy until all those involved are terminated, so be prepared for page two of this bizarre story. Also, there were EMT's on the scene, of whom I have read, did not immediately administer first aide. Don't get me wrong... I am not looking to point a finger at anybody else, but what I am saying is there are a bunch of factors that I believe should mitigate for Pantaleo. Finally, in watching the Commissioner's press conference where at the end he says, "I realize cops will be angry. If I were a cop I would be angry." I don't know what the hell a statement like that means, but I will say this, if you think you are right, you don't apologize. The bottom-line commissioner... you never were a COP!


June 10, 2019 REPORT OF JUNE MEMBERSHIP MEETING

President Mike Lanning opened the meeting at 7:10 PM with the Pledge of Allegiance to the Flag.
Treasurer Tony Lomanto gave the Memoriam. We lost 4 fellow police officers since the last meeting. There was a moment of silence for prayers for the sick members, police who have been injured or killed on duty and for our Armed Services serving in harm's way.
.
There was a mention of this year being the 75th Anniversary of D-Day and how we are losing about 300 WW II Veterans each day.

Mike talked about Medicare Part B reimbursement and distributed forms to those who needed them. See the April 17th entry below for further explanation.

Feedback from the May 1st luncheon meeting at Verdi's was very positive.The possibility of having luncheon meetings in the future was discussed. Some of the meetings would possibly be held on a Sunday at the FOP building. By a show of hands it looked like the members would be open to that day.

Bob Valentino talked about the June 14th Bowling League Dinner Dance at Verdi's. At this time there are 230 people coming. He spoke highly of the musical group that will be performing.

Tony Piazza gave an update on his work regarding the VSF bill. It all comes down to dealing with the Democrats this time. No bill has yet to be introduced and it is coming close to the Legislature recess.

Joe McGarry talked about the FOP Convention in New Orleans in August and if anyone wishes to go as a delagte. There is a problem with room availabilty as the State had to givew up many rooms due to a small number of delegates going. The Lodge has a newly designed shirt available with the shileds of those killed in the line of duty and will include that of Bill Martin.
Tony gave a financial report of the Association and reported at this time we have 1,080 members of which 696 are Lifetime members. Dues have dropped and expenses are up. Postage is more expensive and the cost of the Newsletter runs about $5,000.00 per issue.
Our Editor, Frank Crisa, who puts the Newsletter together is in the hospital ICU. He has an infection following surgery. He offered thanks to all the members who prayed for him and sent good wishes. In an update, Frank is now back home and recovering.
The meeting concluded at 8:40 PM and the next meeting will be in September 4th at the FOP Bldg.
Respectfully submitted by Recording Secretary Bob Forrester with assistance from his wife, Fran.

May 8, 2019 BENEFICIAL INFORMATION FOR OUR MEMBERS
Our Chaplain, Rev. Dr. John Rocco Carlo cpc900@verizon.net , and Ret. Lt. Charles McCray cemccray@aol.com sent us information that may be valuable to our members and their families. John is also the Chaplain for the Verrazano 10-13 Club (Ret. Det. Richie Commesso - President)
From the VZ 10-13 Club, information on Senior Discounts, locations where you can and cannot carry, notifications upon death of retired MOF, and others can be read HERE
From Charles McCrae, information regarding health care issues and dates available for the month of May. There are various dates for different examinations and seminars. It is a very useful piece of information. That calendar can be read HERE

May 5, 2019 REPORT OF MAY MEMBERSHIP MEETING
The first ever luncheon Association meeting was a tremendous success with many members who normally couldn't make the evening meetings because of driving at night probems, made this meeting.
Our thanks to Recording Secretary Bob Forrester for submitting the following report (with help from his lovely wife and Associate Member, Fran.)
Minutes of Meeting held at Verdi's on May 1, 2019
President Mike Lanning called the meeting to order at 1:50 pm.
Pledge of Allegiance by the assembly immediately followed.
Treasurer Tony Lomanto read the names of the departed since the last meeting, and asked for prayers for the sick members and family members and also all the police who are suffering and for our armed forces serving in harm's way.
Mike thanked First Vice President Bob Valentino for all he did to secure the venue for our luncheon meeting at Verdi's and for the upcoming Bowling Dinner-Dance on Friday, June 14, 2019 also at Verdi's. Tickets will be available at a cost of $100.00 per couple. In 2020 two of the luncheon meetings will be held at Verdi's.
Tony Lomanto gave a report on the balances in the Checking and Money Market Accounts and also thanked an anonymous member who donated $550.00 at the meeting.
Mike and Tony spoke of the recent Medicare Part 'B' reimbursement that was recently received. Because the City did not reimburse the full 2018 amount of $134 a month ($1608) to the retiree and eligible dependent for a total of $3216, certain forms had to be submitted to get the difference. Please read the article below posted on April 17th.
Information was received from Bob Ganley that the ID machine for Transit Police retirees is now working. You can e-mail or call for an appointment to get a new card. Check the information posted below on May 1st about the ID card machine up and running. You must make an appointment first. At this time, there is a backlog of around 100 applications, so please be patient with Officer Bazile.
Tony Piazza gave an update report on the VSF bill. It basically comes down to dealing with the Democratic side in Albany.
February 28, 2020 will mark the 50th Anniversary of the death of P.O. Michael Melchione. There will be a mass at St. Sebastian Church in Woodside where his funeral took place. More information will be posted as the date nears.
Tommy Greer did a great job with the Mets Tickets and we thank him for all his work. He has just one ticket left after selling 180 tickets. He also has available pins, shirts and even tie clips with the Association logo.
Pete Laddomada, representative from BJ's, presented the Association with a Basket of Cheer and informed us that the special discount membership offer of $25 for Association members has been extended to August 31st. Contact Tony at alomanto@optonline.net for the form.
Our next meeting will be on June 5th at the FOP Building in Hicksville.
Respectfully submitted,
Bob Forrester, Recording secretary
We have received several emails from members who attended this luncheon, thankiing us for setting up this type of meeting and commenting on the great food served.

May 1, 2019 TRANSIT ID CARD MACHINE UP AND RUNNING
We want to thank Bob Ganley for all his hard work in getting the ID card machine back in operation. Here are the necessary instructions for re-newing your Transit ID card.
For New York City Transit Police Department retirees who would like to renew their retiree identification card, please adhere to the following:

1. NYC Transit Police Department retirees should contact the NYPD's Transit Bureau Personnel Unit by telephone at: 718-694-3060 to set up an appointment to renew their ID card. Retirees will be asked to provide a copy of their driver's license and current retiree identification card. Copies may be sent by e-mail to TBHQPersonnel@NYPD.org by fax to 718-694-5809 or via US mail to NYPD Transit Bureau Personnel, 130 Livingston Street, 3rd floor, Brooklyn NY 11201. An application (completed by the Personnel Unit) will be created with the retirees name, address and phone number and other pertinent information.

2. Once a background check is completed, a member of the NYPD's Transit Bureau Personnel Unit will contact the retiree to set up an appointment for the retiree to come in, update their photo and receive a new identification card.
The unit is about 100+ cards behind, so please be patient with them.
March 28, 2019 NY ROMEO & JULIET LUNCHEON
Vinnie Servedio did another great job putting together this ROMEO & JULIET luncheon held on March 20th at Stella's Restaurant in Floral Park, Long Island. There was a big turnout of around 36 persons. Here are a few photos taken at the affair.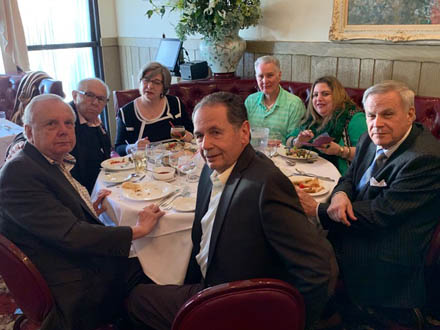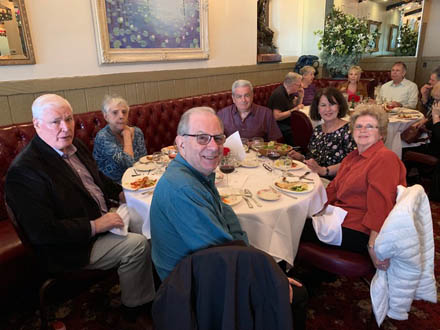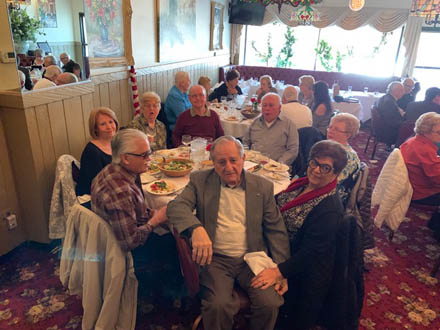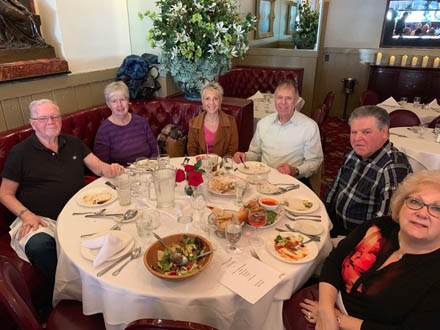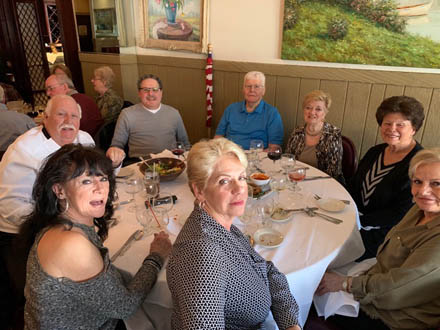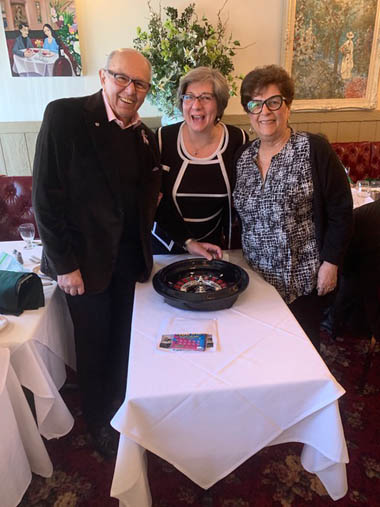 March 15, 2019 MARCH MEMBERSHIP MEETING REPORT
Minutes of the March Membership Meeting by the new Recording Secretary Bob Forrester
The meeting was called to order by President Mike Lanning who led the membership in the Pledge of Allegiance. Treasurer Tony Lomanto then read off the names of our fellow officers who passed away since the December meeting and asked for a moment of silence for them and their families, for those on the Sick List and for our fellow Police and Armed Forces serving in harm's way.
The meeting was put on hold and Mike introduced Ms. Danielle Becker, an attorney from the Ettinger Law Firm, which specializes in elder law, wills and trusts and emphasized the importance of items like a Power of Attorney. Ms. Becker gave a very interesting and informative discussion on the different types of trusts and wills and after her talk, she answered many questions from the members. If you are interested in this matter, please contact Ms. Becker at 1-800-500-2525 X124. The firm can be viewed at www.trustlaw.com We want to thank member John Kaim for recommending Ms. Becker to us as a guest speaker.
Our second speaker, Peter Laddomada, was from BJs Wholesale Club and gave a talk on membership savings for members of the Retirees Association. At this time, members can join or renew their current membership for only $25. Inner Circle and Perks Rewards are also offered at a discount. If you are interested, please call Peter at 718-637-7487 and mention you are a member. If you are a current BJ's member, you will need your membership number handy. Peter also donated a bottle of wine for the raffle.
1st VP Bob Valentino spoke of the May meeting luncheon to be held on May 1st at Verdi's Caterers. It will start at 1:30 PM and we look forward to a large attendance.
Tony Lomanto mentioned the NYS FOP Police Memorial Day will be Saturday, May 4th at 11:00 AM at the NYS FOP HQ in Hicksville. There will be over 70 names to be added to the wall and if you can, please attend and show the families of the officers they are not forgotten. The Retirees Association donated $200 to the FOP for the maintenance and expenses of the Wall.
2nd VP Vinny DiMaio spoke of the bill in Washington (HR1156 LEOSA Reform Act) to amend HR218 and allow changes in magazine capacity, and allowing carry in places like schools and Federal buildings and sites and other changes.
John Moakley spoke about the recent news that the NYS Department of Corrections and Community Supervision Parole Board had disconnected a computer link to their office where concerned family members would lodge their protest against the upcoming parole hearings for convicted cop killers. The link was established in 2012 and was used by many. Unbeknowst to the NYPD PBA, that link was disconnected in 2014 without any notice given. As a result, recent parole hearings that enabled cop killer to be set free never received the many protests. The PBA immediately sent a letter to the DOCSS chairwoman calling for the immediate reinstatement of the computer link.
The link is now directed to the PBA office on their website http://www.nycpba.org and click on the "Cop Killers" tab.
Tom Greer told the membership that all 125 tickets originally purchased for the Mets-Yankees game on July 2nd had been sold out. He purchased another 25 and if you are interested, please contact him. See the March 13 entry just below.
Legislative Director Tony Piazza spoke of the ongoing battle for the VSF. Now that the Democrats are in control in Albany, we must ask for their support on any bills to be presented on our behalf.
The 50/50 raffle was held and prizes awarded. Our thanks to John Reeves for supplying many of the shirts and other items and we wish him well in his current medical matter.
The meeting was then adjourned.

February 12, 2019 UPDATE ON REV. JOHN ROCCO CARLO
We received a letter from John that his telephone number on the back of the membership cards is no longer in use. If you have to contact John for any help, please call him on his cell at 347-613-0390

January 23, 2019 FORMER TRANSIT P.O. RICHARD DI GUGLIELMO RELEASED FROM PRISON
From Lou Hollander as received from Charlie Moran physedcop@yahoo.com
Above is the picture of Richie "D" exiting prison after serving 20 years on a politically motivated wrongful conviction. Many people in this group have expressed an interest in helping Richie successfully transition back into the outside world. Let's help our Transit Brother get back on his feet again. This could have been anyone whoever wore a shield and rode NB/SB. If you would like to help Richie, please make out a check to Richard DiGuglielmo and mail it to:
Richard DiGuglielmo
P.O. Box 1270
Yorktown Heights, NY 10598
100% of all funds collected will go to helping Rich
P.O. Box 1270
Yorktown Heights, NY 10598
100% of all funds collected will go to helping Richard

September 13, 2018 WORLD TRADE CENTER NOTICE OF PARTICIPATION HAS BEEN EXTENDED
From the NYPD PBA and SBA
The deadline for submissions for the World Trade Center Notice of Participation has been extended until September 11, 2022.
It was reported recently that the submission deadline was September 11, 2018, but that has changed.
Although the new deadline is four years away, we urge all active, retired and vested members to submit their Notice of Participation as soon as possible.
All relevant forms can be found on the NYPD Police Pension Fund website.
Please don't delay in taking immediate action on this most serious matter.

September 11, 2018 STREET NAMING IN MEMORY OF PTL. MICHAEL MELCHIONA UPDATE
From Lou Hollander, Sal Napolitano & Tony Lomanto
The Memorial Ceremony for Ptl. Mike Melchiona was a well attended event with Ret. P.O. Henry Melchiona and his family, NYPD Chief of the Department Terence Monahan, Admin. Chief Bob Ganley, TA President Andy Byford, District 1 CO Capt. O'Sullivan, former Transit Bureau Chief Joe Fox, PBA President Pat Lynch, a contingent of Officers from Suffolk County PD, and other NYPD uniformed ranks and the NYPD COlor Guard and Band contingents.
From Sal Napolitano::
Today was the long overdue recognition for Mike Melchiona who was killed in the line of duty on the 50th St & Broadway IRT subway station on February 28, 1970. A brass plaque will be mounted on that station in Mike's memory.

I was speaking with Mike's brother, Henry, this evening who told me that he and his family were overwhelmed by this tribute and the number of retirees, active police officers, Chiefs, former Transit Bureau Chief Joe Fox, and other ranking officers, PBA Pat Lynch, Deputy Commissioner Bob Ganley, and the MTA President were in attendance. Also, in attendance were Pipes & Drums. K-9 Units and police officers from various police departments from the NY & NJ area. There were many Suffolk County Police officers including Henry's son and nephew who are both detectives with the SCPD. After the dedication the PBA provided a luncheon in District 1 for all the attendees and guests. This was a very proud moment for the entire Melchiona family.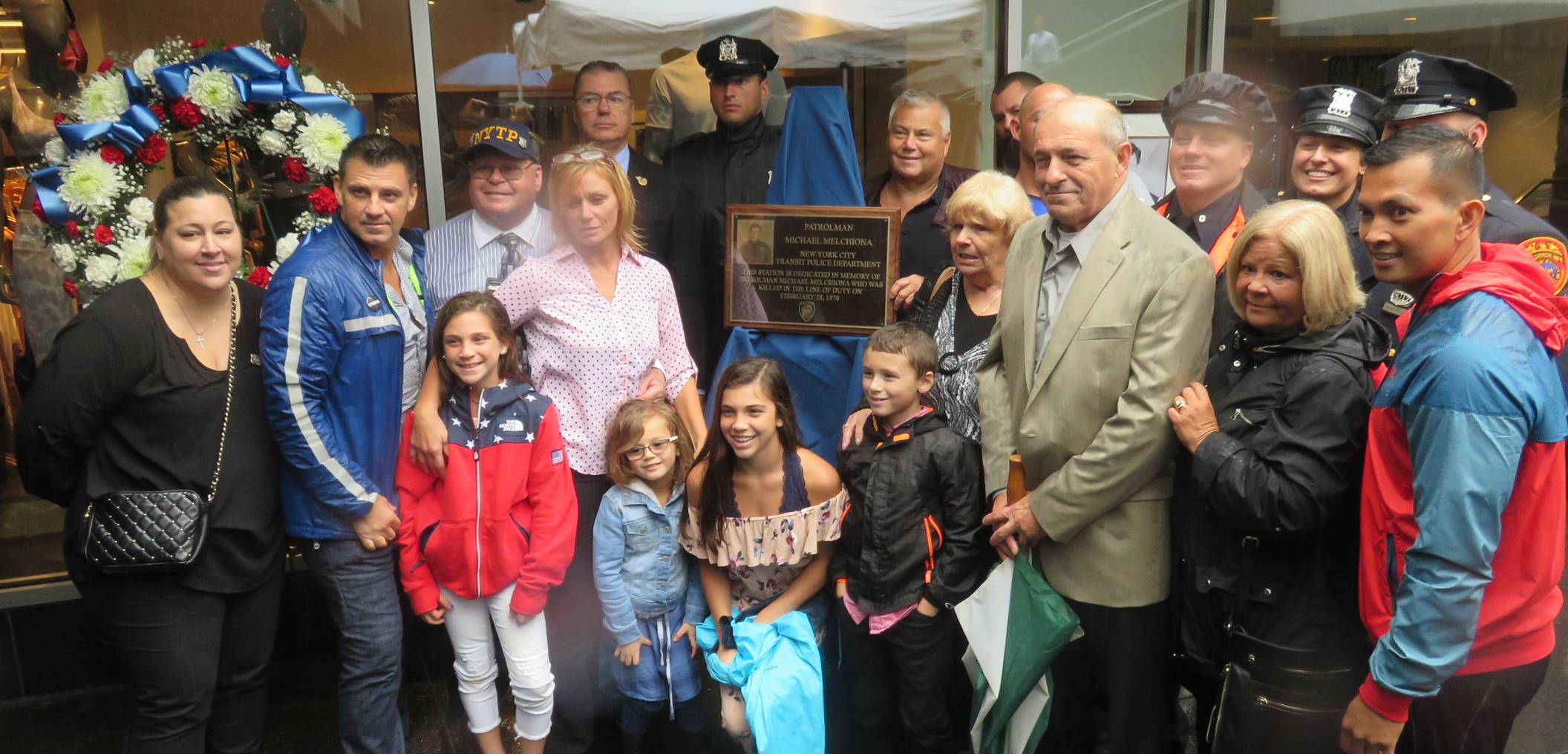 The Melchiona Family